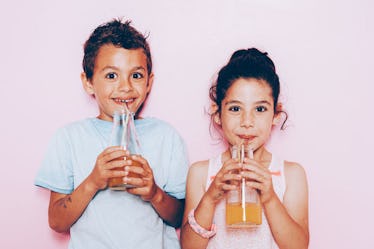 Why Your Older Brother Is The Most Important Person In Your Life
Your brother is the best. Sometimes he makes you really want to pull your hair out, but all in all, you wouldn't be the same person without him causing a ruckus in your life. He was your biggest competition when it came to the TV remote or the chocolate pudding in the pantry. You'd try and label your leftovers, but he'd always get to them first. When your friends came over, he'd find a way to prank you and hide your favorite games. Actually, why your older brother is the best may not be so clear, huh? Hear me out on this one, though, because he's the MVP of your life for a few reasons.
You two have shared a lot of memories together. There has been the family beach vacations and road trips where you'd play games in the car. You'd try and find license plates from different states, or watch your favorite movies. To this day, those have been some of your favorite moments, and you'll cherish them forever. (Not to mention, you know every line to Finding Nemo because you two have seen it so many times.)
As you grew up, new besties came into your life and you surrounded yourself with a girl crew. You go to those friends when you need to vent or a round of bottomless mimosas on Sunday morning. Believe it or not, they don't quite compare to your brother. He is the most important person in your life for seven reasons.