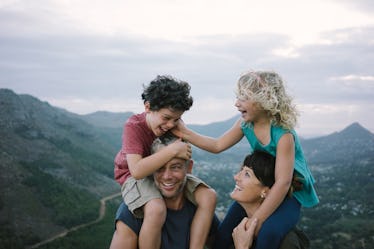 7 Things You'll Inevitably Learn From Having An Older Brother In Your 20s
Bruce and Rebecca Meissner/Stocksy
Oh, brother. Life is full of adventure, and having a sibling is sometimes a whole adventure in itself. You've learned a lot of lessons along the way -- how to tie your shoes, how to buy a plane ticket, and how to be a good friend -- but nothing quite compares to the things you learn from your older brother when you're in your 20s.
A lot changes when you're adulting. We don't play the same games (Chutes and Ladders, anyone?), read the same books, or have many of the same problems anymore. What was once hours dreaming about Disney World and summer camp, is now hours wondering where to get takeout for dinner and how to get car insurance. Life became more realistic, and fast.
But nostalgia aside, being 20-something has its perks. You might not be dreaming of breakfast with Minnie Mouse and tie-dying T-shirts anymore (Maybe you are. I'm not here to judge.), but you're imagining bigger things for yourself. Perhaps you want to travel more, write a book, or launch a business. The world is your oyster, and you're even luckier because you have an older brother to help you figure it all out.
Growing up, brothers were all about teasing, arguing, and always showing you something cool (or gross.) As a 20-something, brothers are good for just being there -- bringing valuable life lessons and a beer to any life adventure. Here are seven things you'll learn from having your older brother around right now.