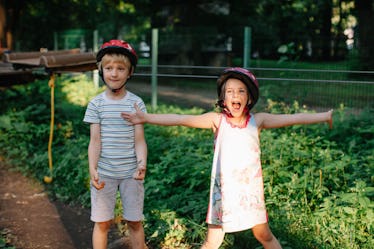 Why Your Older Brother Is Your Favorite Sibling (Just Don't Tell The Others)
Oh, brother. You'd never tell a soul, but your older brother is actually really cool. He's your best friend, and the only person you'd ever go to with some of your trickiest life problems. Even his ability to send memes is pretty on point. Sure, over the years, you might have had those moments when you've drifted apart. You fought over the TV remote when you were little and stole each other's chocolate pudding. But, there are those times your older brother is your favorite sibling, and you hate to admit it. Just don't tell the others, OK?
Your younger siblings wouldn't ever let you live it down if they knew your older brother was your number one. Truth is, you love them just the same, but just for different reasons. They remind you not to take life too seriously, and are always down for a wild adventure. But your older brother is the one you can go to when you're seriously trying to figure out how to "adult."
He's been there, done that. He knows exactly how you need to handle certain situations. His advice means the world to you, and over the years, he's really gotten quite wise. Ever since you both moved out, you haven't seen him as much, but you know he'd always be around when you needed him the most. These seven times are when he's truly been your favorite. Although, you wouldn't tell a soul.