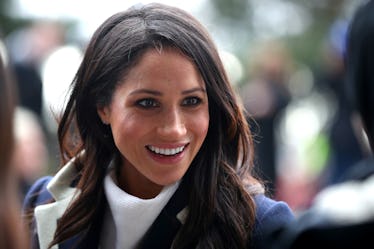 Meghan Markle Was Reportedly Baptized This Week & Here's Why That's A Big Deal
WPA Pool/Getty Images Entertainment/Getty Images
Meghan Markle and Prince Harry's wedding is just 12 weeks away! The royal couple is in full-on wedding planning mode with Markle getting royal lessons from a team of advisors (and Kate Middleton) and the couple working to make sure no stone's left unturned when it comes to planning the big day. One of the things on their wedding to-do list was apparently to get Markle baptized, which she reportedly did in a secret ceremony this week. You might be wondering: Why was Meghan Markle baptized? Well, just because the couple has decided to forego some royal wedding traditions doesn't mean they're not following tradition at all.
Daily Mail reports Markle was baptized into the Church of England in a secret ceremony at St. James' Palace on Tuesday, March 6. The baptism was in the Chapel Royal, where Prince George was christened and where Princess Diana's body was kept the days leading up to her funeral. According to the Daily Mail, Prince William, Kate Middleton, and the Queen were not in attendance, nor were Markle's (divorced) parents, Doria Ragland and Thomas Markle, but Prince Charles and Camilla Bowles were, as were Markle's two unnamed "sponsors" (one of them was reportedly a good friend of Markle's, could she be one of the bridesmaids as well?!).
Meghan Markle being baptized into the Church of England is a pretty big deal.
Here's a little history lesson for you: King Henry VIII (you know, the guy who had six wives and beheaded two of them? Solid dude) created the Church of England in 1534. England, like most of the countries in Europe at the time, was loyal to the Catholic church, but Henry basically got super pissed that the Pope wouldn't annul his marriage to his first wife, Catherine of Aragon, so he excommunicated England from the Catholic Church, made himself the head of the Church of England (the official title is Defender of the Faith, all future monarchs of England have had this title as a result), which allowed him to make his own decisions about divorce. LMAO, men, am I right?
Fast forward hundreds of years into 2018, and Queen Elizabeth II is the head of the Church of England. So, Meghan Markle being baptized into the church is a big deal because, well, her fiancé's grandma runs the damn thing. And it's a nice way for the couple to follow tradition when many of their wedding plans reportedly won't be.
The baptism was reportedly followed by Markle's confirmation and then a dinner at Prince Charles and Camilla Bowles' residence, Clarence House. Daily Mail reports it wasn't a requirement for Markle to be baptized into the church in order to marry Harry in May, but Markle chose to as a show of respect for the Queen. So, while Meghan Markle and Prince Harry definitely plan on breaking tradition in numerous ways at their wedding, they still want to show the rest of the royal family that breaking tradition won't always be their go-to move.
Some of the traditions Markle and Prince Harry are breaking aren't just English traditions.
Markle is planning on having her mother walk her down the aisle and will be giving her own speech at the wedding reception. She has also chosen to have a Maid of Honor instead of a Chief Bridesmaid, which is a vote in favor of American tradition over English.
But planning a wedding isn't the only thing Markle has had to focus on since getting engaged to Prince Harry in 2017. Markle has been getting crash courses in royal life from a team of advisors, and Kate Middleton has also been helping her get acclimated to royal life. According to the source, Middleton "will give Meghan advice about adapting to the royal family" and "that if she ever needed anything, she shouldn't hesitate to get in touch." They apparently bond over the fact that not many people have experienced their particular circumstances: marrying into the English royal family without being English nobility beforehand. So I wouldn't take the fact that Kate Middleton wasn't at Meghan Markle's baptism as a bad thing. Middleton is eight months pregnant and due in April, so she's probably busy getting ready for the arrival of her and Prince William's third child. Plus, Markle and Middleton have years worth of family events to attend together, so they good.