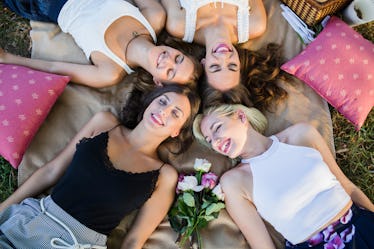 Why The Bond With Your Sorority Sisters Is The Greatest Takeaway From College
They're your soul sisters. Whether you've already graduated college, or are living your best life during senior year, it's quite clear that college gives you a whole lot. There are your roommates who you seriously couldn't live without (or live with at times, for that matter), and the textbooks that you probably didn't need to buy, but are now stuck with somehow. Yes, you're leaving with so many memories, and if you're a part of a sorority, you know that you've got forever to look forward to. The bond with your sorority sisters is the greatest takeaway you'll get from college. And, if you're lucky enough to know what I'm talking about, you'll so relate to these reasons.
Our friends are the family we choose. Going to college, you probably got assigned a roommate freshman year, and had to take all those general education classes for the first semester. Not much was left up to you it seemed, and joining a sorority gave you a whole group of people to hang with.
At first glance, it was probably incredibly intimidating. Recruitment weekend was draining, but the experience most likely left you with some of the best friendships. Nothing bonds two people like navigating college firsts, difficult professors, finding your favorite social spots, and getting through midterms and finals together. You loved how this whole thing made a large campus feel smaller. You got your big sister, and real role models. It's no wonder why being part of a sorority is not just for four years, and actually for life.