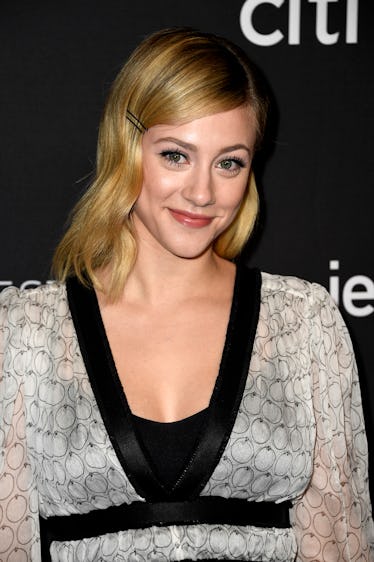 Lili Reinhart Reveals The Real Reason She Wants To Keep Her Relationship Private
Frazer Harrison/Getty Images Entertainment/Getty Images
I'm not a celebrity (shocking, I know) so I can't say from personal experience but it seems like celebs can handle their personal lives one of two ways. The first way they can handle it is to be an open book. Like say, Kim Kardashian or Chrissy Teigen. They shamelessly lay their entire personal lives out there for the world to see. The other way to handle it is to go the opposite extreme and be totally and completely private about their personal lives. For example, Seventeen recently got the scoop on why Lili Reinhart keeps her relationship private.
The magazine's May/June cover story features all of the stars from everyone's new favorite teen drama Riverdale. There are different covers featuring each one of the show's amazing stars: Camila Mendes (Veronica Lodge), 23; KJ Apa (Archie Andrews), 20; Lili Reinhart (Betty Cooper), 21; Cole Sprouse (Jughead Jones), 24; Madelaine Petsch (Cheryl Blossom), 23; Ashleigh Murray, (Josie McCoy), 30; and Casey Cott (Kevin Keller), 25. Inside the magazine, each of the stars dished about their personal lives.
For those of you who don't keep up with the Riverdale stars and their personal lives outside of the show, let me give you a little refresher. Basically, on the show, Reinhart's character, Betty, has a romance with Sprouse's character, Jughead. And that's not all. According to many, many, many unconfirmed rumors, Sprouse and Reinhart may be getting romantic off-screen as well. (They were allegedly spotted kissing for the first time at Comic-Con last year, and currently, they're on vacation together in Mexico.)
Despite the rumors, both Reinhart and Sprouse have kept frustratingly quiet about whether or not they're actually dating IRL. Finally, in her most recent interview with Seventeen, Reinhart revealed why she chooses to keep her relationships on the DL:
Every time someone asks me about it, I make a decision then and there about whether I'm comfortable. It's not like I'm in some kind of contract, but I'm not in the place where I want to talk about it, and that's totally fine. It's called a private life for a reason—it's mine, and it's special and sacred. My relationships are between me and whomever I'm with, not between me and the world.
In his interview with Seventeen, Sprouse also alluded to the fact that he isn't as keen on bragging about his love life as he once was when he shared the advice he'd give his younger self:
Relax! I spent so much time trying to be perceived as some kind of playboy instead of someone who spent 90 percent of his day playing video games.
OK so it looks like we aren't going to get any confirmation about whether or not they're dating anytime soon. But that doesn't mean they aren't willing to admit their fondness for each other...as friends.
When Reinhart was on the cover of the February issue of Ocean Drive magazine, she talked about how Sprouse has been her rock as she deals with the trials and tribulations of her newfound fame:
He really brings us down to earth if we're feeling like something we've said is being taken out of context. He's always the one to be like, 'Just ignore it. It will blow over.' It's a nice, calming energy he has because you know that he's been through it.
So at least we can sleep well at night knowing that the two are definitely close friends at the very least.
Another small silver lining? Even though Sprouse is definitely not going to give into the rumors by either confirming or denying them, he told Entertainment Weekly back in September that he isn't necessarily mad about them. In fact, he's flattered:
Since the show began, people have wanted Lili and I to be together. People have wanted Lili and Camila to be together. People have wanted KJ and I to be together. People have wanted every actor on this show to be in a union that they could make real and talk about. So I think that kind of discussion, especially because it's based so much on rumor and hearsay, needs to be taken with a grain of salt. We're all still human lives that are interacting with the source material. But, truthfully, it's very pleasing that people talk about Lili and I in that way because it means that we're resonating so strongly from our character perspective that people really want that to be true.
All right, so it doesn't look like we're going to get any confirmation about the couple dating anytime soon but, hey, at least we don't have to feel bad about feeding into the rumors. Like, um, sorry you guys are SUCH good actors that we literally can't help ourselves.
Check out the "Best of Elite Daily" stream in the Bustle App for more stories just like this!