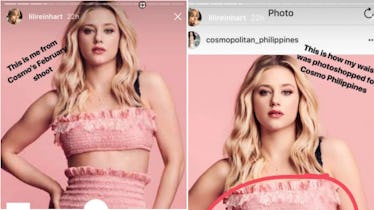 Lili Reinhart Responds To "Disturbing" Photoshopped Pics: "I Was In Shock" — EXCLUSIVE
There's still a strong Photoshop epidemic in Hollywood despite the growing outcry about unrealistic beauty standards. In an exclusive interview with Elite Daily, Lili Reinhart responds to Photoshopped photos of her and her Riverdale co-star Camila Mendes, and speaks out about the problem with the media altering her features to fit a warped social expectation.
The young Riverdale actresses have been outspoken about self-love and body acceptance before. In February 2018, they appeared on the cover of Cosmopolitan Philippines' edition, and were disturbed to see how much the magazine changed their bodies. The stars found it particularly upsetting, considering they work so hard to reject editing and promote body positivity.
In the pictures below, you can see that both Reinhart's and Mendes' waistlines were shrunken significantly. Reinhart shared an unedited picture from the photo shoot next to Cosmopolitan Philippines' image on her Instagram story, explaining, "This is me from Cosmo's February shoot," and, "This is how my waist was photoshopped for Cosmo Philippines."
Reinhart also shared pictures of Mendes' Photoshop fiasco:
Mendes also posted a message about the pictures on her personal Instagram story. She shared the note:
@lilireinhart and I feel disrespected & disturbed by the sight of our photoshopped bodies ... We want [Cosmopolitan Philippines] readers to know that those bodies are not ours.
Now, Reinhart is opening up about why she felt the need to share the unedited photos and call out the magazine for Photoshopping her. She tells Elite Daily,
Cami actually sent me those photos. She's the one who brought my attention to them. I hadn't seen them, and she texted me and said, 'Look at these photos. Look at how much they photoshopped our bodies.' ... I was in shock.
"I wasn't expecting to be Photoshopped that way or Photoshopped at all necessarily," Reinhart explains. "And, just to see the drastic difference in our waists that were Photoshopped was disturbing. [It] showed me this dystopian idea that we have in this industry — that a 24-inch waist is normal, and that's what people should have and should look like... I just find it disturbing that they felt the need to alter our bodies in order to cater to what they thought would sell better, or what they thought is more attractive."
Reinhart says it really worked both her and Mendes up, explaining, "It fired both Cami and I up, too, to call them out on it and say 'Nope, that's not our bodies.'"
"That's not what we look like and that's also not what we want to look like," she adds. "There's nothing wrong with people who have 24-inch waists. There's nothing wrong with people who have those bodies, but don't try to Photoshop me into looking like something that I'm not... You're just presenting this false image to the world, and I'm not gonna stand behind that."
Mendes echoed a similar sentiment about the Cosmo incident in an interview with People magazine. Mendes told the publication,
We were the most shocked about the fact that they would [do that] knowing how much we speak about body positivity to our fans, and how much we love to talk about that. That they would then manipulate our bodies when we are literally preaching body positivity is so personally insulting.
Mendes continued,
I'm so happy with the way that I am and I don't think that was necessary. It's never necessary to change your body. People know what I look like, I take photos on my own and I don't edit them so people know. Stop trying to lie to people, you know?
Yes. I do know. Thank you, Camila, and thank you, Lili!
Fans are lucky to have both of these actresses loudly and publicly addressing issues like body image and photo editing, especially when young people might have a harder time distinguishing Photoshop from reality.
The truth is, everybody and every body is beautiful, and our attention should be on taking care of ourselves and our health rather than making the media happy.
Check out the entire Gen Why series and other videos on Facebook and the Bustle app across Apple TV, Roku, and Amazon Fire TV.