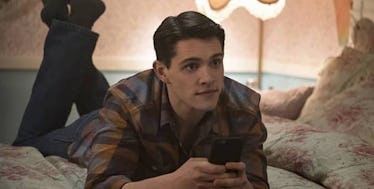 'Riverdale' Star Casey Cott Explains Why Kevin Keller's Sexuality Shouldn't Matter
Warner Bros. Television
I'll just get this out of the way: Casey Cott's character is by far the best one on "Riverdale."
Cott himself fits in comfortably with the fresh, young faces of CW's hit new series, a dark and slightly warped reworking of the beloved Archie Comics.
The coming-of-age show has Cott cast as Kevin Keller, the son of the town's sheriff, the bubbly best friend to fellow student, Betty Cooper — and the first openly gay character in Archie universe.
As this is our first time ever seeing a live-action version of the character (contrasting the very iconic iterations from Archie Comics), Cott allowed himself to be inspired by the creative direction and excellent writings of Roberto Aguirre-Sacasa to help him fit seamlessly with the rest of the kids in Riverdale.
In other words, if you're looking for a stereotypical gay best friend, Cott's portrayal of Kevin is far from it.
During a time where accurate LGBT representation on television is paramount, Cott has continually made a conscious effort not to allow Kevin to be defined solely by his sexuality.
Cott says,
I had a talk with Roberto, our show runner, about this. What's really cool about Kevin is that it's clear he is gay and it's not hidden. It's recognized but it's not who he is. He's an incredibly dense character and I think it's really important that it's just a part of him. It's just not him. That's what makes playing Kevin such a joy.
In a town full of lies and deceit, Kevin is actually quite refreshing to watch. He acts as a truth-teller, potentially influenced by his law enforcement father. He has no problem telling it like it is.
"It's rare that Kevin has ulterior motives or is trying to manipulate a situation," Cott says. "He kind of calls the shot as they are and I really like that. He says the things everyone was thinking that probably shouldn't be spoken, sometimes for comedic effect."
Kevin has managed to insert him in the know, becoming good friends with just about everyone he's come in contact with. Not to mention, he's amassed himself not just one, but two romantic interests before we've even reached the current season's penultimate episode.
And with season two of "Riverdale" already confirmed, there's plenty left to explore when it comes to Kevin Keller. Cott says,
I've heard some of the stories about Kevin [for season 2], and I think there definitely will be some interesting things. I'm excited to explore having my father being sheriff of town and still being friends with all the kids and how that works. Obviously, some new love interests will come into play, and we'll see how those continue. It's all very exciting, for sure. It's going to be amazing.
Kevin's storyline, the amount of screen time given and all of his dating conquests are given prominence in "Riverdale." He is as fleshed out of a character as they come and isn't reduced to a sassy, limp-wristed companion to the other high schoolers.
Now, that's some progressiveness we should celebrate.
If you're interested in fawning over Cott as much as I do, catch "Riverdale" Thursday nights at 9/8c on the CW.