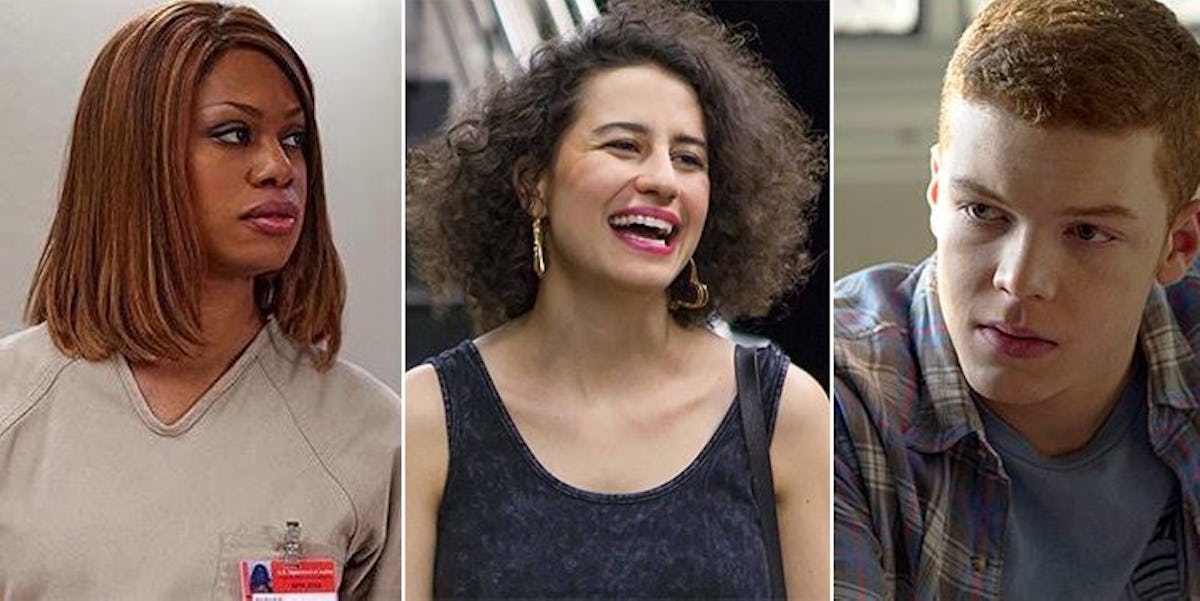 The 10 Most Impactful LGBTQ Characters On Television Right Now
Netflix/Comedy Central/Warner Bros. Television
Same-sex relationships used to be out of the norm — and something rarely talked about, let alone seen on televisions screens across the country.
Now, representation in the form of gay, lesbian, bisexual and transgender characters (among so many others) are regulars on TV, filling out roles contribute to deep and compelling storylines.
Granted, it took a lot to get to this point, but boy, am I glad we're here.
Below, you'll find 10 of the most impactful LGBTQ characters to stream across airwaves in 2017, all for very different reasons.
Go ahead and get a little gay today.
10. Josh Wilson, "Crazy Ex-Girlfriend"
Actor: David Hull
It's hard not to fall in love with "White Josh."
As Josh is one of the few bros I would enjoy spending quality time with, "Crazy Ex-Girlfriend" did the smart thing of not announcing his homosexuality out loud.
Instead, it was nonchalantly referenced during conversation, which reinforces just how comfortable he is as a regular, muscled-out, California gay.
9. Sara Lance, "Arrow"
Actress: Caity Lotz
Announced mid-series as bisexual, Sara has managed to find herself in several relationships with people of different genders, all while dying and coming back to life, courtesy of the Lazarus Pit.
One could only be so lucky to fall in love with a titular superhero and a badass villain's merciless daughter.
8. Eliot Waugh, "The Magicians"
Actor: Hale Appleman
Featured in an ensemble of talented magicians, Elliot stands out as way more than your stereotypical spell caster who just so happens to have a serious passion for festive vests.
He's one of few who has mastered the art of witty one-liners while never letting his sexuality get in the way of commandeering an entire fictional land of magical creatures.
7. Emily Fields, "Pretty Little Liars"
Actress: Shay Mitchell
The fact that Emily Fields is the token lesbian liar of the group makes no real difference when she and her attractive pals are trying to evade the clutches of the elusive "A."
While she struggled to come out early on in the series — which relates to just about any LGBT teen — her interest in women was put on the back burner as the show progressed.
You see? Coming out isn't as big of a deal as it may seem after all.
6. Kevin Keller, "Riverdale"
Actor: Casey Cott
As Archie Comics' first openly gay character, this live-action iteration of Kevin Keller delivers the truth, even when you don't want to hear it.
It's not his sexuality that has him standing out amongst the crowd of brooding teenagers.
Instead, it's his blunt honesty and ability to say what needs to be said that him seem like one of the more "normal" teenagers around, in comparison to the other damaged kids of "Riverdale."
5. Alex Danvers, "Supergirl"
Actress: Chyler Leigh
Alex Danvers started out as the hardheaded, gun-toting sister to iconic alien, Kara Danvers (AKA Supergirl).
Instead of allowing her to be overshadowed, the show's creators took the character on a beautiful story arc during its current season, following her coming out story, while keeping her as kickass as ever.
Her narrative — one that has her acknowledging her sexuality much later on in life — is something that occurs so often, it's inspirational to see it finally represented on the small screen.
4. Connor Walsh, "How To Get Away With Murder"
Actor: Jack Falahee
Connor's blunt promiscuity is something you wouldn't think should be applauded, but in fact, it's refreshing.
The openly gay law student has been the center point in several sex scenes throughout the series, showing off both his brains and his impeccable behind.
While his clothes have stayed on as of late, his inclusion in the show has helped to push the envelope and throw out a new voice when it comes to sexual politics on television.
3. Ilana Wexler, "Broad City"
Actress: Ilana Glazer
Exactly which way Ilana swings may never actually be addressed, but that's no matter. Ilana's intense, sexual charisma appeals to all types of genders and sexualities.
She's loud, outspoken and does basically whatever the fuck (and who) she wants.
Can I get a "YAAAAS KWEEEEN"?
2. Sophia Burset, "Orange is the New Black"
Actress: Laverne Cox
There's not much to be said about one of the most monumental trans characters on television to date.
In fact, it's best to let actions speak for themselves; Sophia is a serious force to be reckoned with.
As the first black transgender woman to have a major role on an American TV show and the first transgender person to be nominated for a primetime Emmy, it's clear this particular exploration in a character is one that we've been waiting a long time for.
1. Ian Gallagher, "Shameless"
Actor: Cameron Monaghan
When he's not dealing with his own dysfunctional family, Ian is struggling with his own personal demons.
As he began closeted, insecure and struggling to fit in in any way possible, his progression from the anti-stereotypical closeted kid to a driven (albeit bipolar) gay man is one that needs to be seen.
Peel back the layers, insert yourself in his shoes, and his storyline is one that any gay teen who doesn't seem to fit in can relate to.
Not to mention, he's one half of one of the most touching couple dynamics on television. And who can argue with a good on-screen romance?