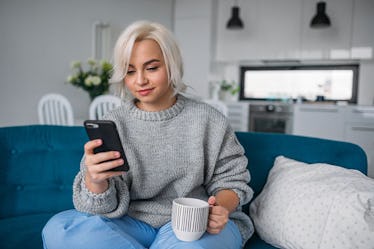 5 Tips To Prevent Your Dating App Convo From Fizzling, Because It Happens To Everyone
It's one of the great mysteries of digital dating. One minute, you and your match are engaged in an enthralling convo with the kind of back-and-forth banter that suggests undeniable chemistry. There are no shortage of flirty comments, thoughtful questions, and LOL-worthy exchanges. Then, just like that — there's radio silence. Why do conversations die so quickly on dating apps? And is there anything you can do about it? According to online dating expert and digital matchmaker Julie Spira, there are actually tactics you can try to keep the conversation flowing freely.
"Dating apps have a digital lightning speed to aspect to them," she tells Elite Daily. "The main reason is, there are only so many matches you can communicate with at a time. Your brain can only keep up with three to five, and if the conversations start to wane, or you're not making plans to meet IRL, it's easy to lose interest when a new batch arrives."
So, what should you do to prevent your convo from fizzling? For one, don't rely on your match to do all the work. A little effort goes a long way, and by putting some thought into your responses, you're more likely to maintain momentum while getting to know each other better. Searching for some specific guidance? Here are Spira's top tips for success.