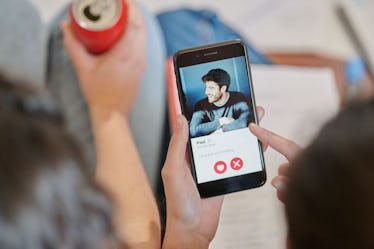 How Do You Spice Up A Dating App Convo? Here Are 4 Ways To Stand Out
So, you've both swiped right, you've passed the awkwardness of the opening line, and your conversation is rolling. Congrats! There's hardly a more exciting time with a dating app match than that initial phase where you're getting to know each other (and, you know, stalking them on social media and fantasizing about your future plans). "Could this person be the one?" you ask yourself while digging through their photos and giggling at their quippy remarks. But keeping a dating app convo rolling takes work. Since you haven't met them yet, you have limited information to work with in terms of conversation starters. And if you see potential, the last thing you want to do is resort to typical small talk. After all, you're trying to get a sense of who they really are, and whether or not you're compatible. Your run-of-the-mill questions aren't going to achieve that (nor keep the conversation going).
Fortunately, there are lots of ways to spice up a dating app convo. The idea here is to maintain momentum in your chatting, use open-ended questions to reveal meaningful details about your match and find opportunities to flaunt your own personality. Here are just a few foolproof ways to liven up your digital exchanges.