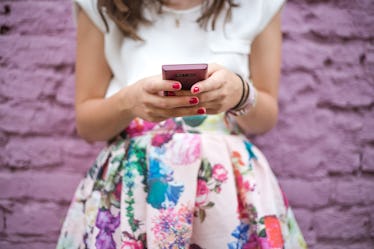 9 Conversation Starters On Dating Apps That Aren't Just, "Hey, How Was Your Weekend?"
Ah, dating apps. The glorious invention that enables us to swipe through a digital catalog of human beings, find one who is cute, and just maybe send that person a message. Dating apps are ubiquitous. In fact, over half a billion messages are sent on Tinder each month in English-speaking countries and 20 percent of messages sent on Tinder begin with the word "hey." Due to sheer volume, generic openers like "What's up?" and "Hey" and "Hi" probably aren't going to catch your match's attention. You need fun and sparkly conversation starters for dating apps to make your message stand out from the rest.
I was having dinner the other day with a good guy friend and I was stoically remarking (read: b*tching) about how I was in a rut with messaging matches. Although I'd rather be messaged first, I had started a few conversations over the week and gotten blah responses. He took my phone, and with my permission, proceeded to send 10 different guys all completely ridiculous messages. Before we finished our first glass of wine, eight of them had responded. Needless to say, my buddy was really proud of himself, and I learned that sometimes in order to get someone's attention, you gotta get a little weird. Here are some fun ideas — including some that we sent that night — for you to try out.