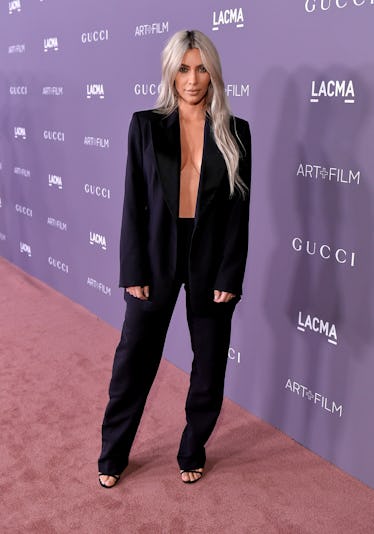 Kim Kardashian Just Deleted All Those Family Christmas Photos & Fans Are Suspicious
Neilson Barnard/Getty Images Entertainment/Getty Images
After 25 days of the joyous Kardashian Christmas card, Kim Kardashian up and decided to delete it all off her Instagram. It honestly makes no sense — the photos were adorable and we waited so long for the full reveal. The whole thing seems very anticlimactic. Why did Kim Kardashian delete her Christmas cards on Instagram? Fans are suspecting it has to do with the absence of the youngest sister, Kylie.
It was rumored that this year's Christmas card would be "girls only." We all awkwardly nodded knowing there was no way in hell Rob Kardashian was going to come out of hiding for a holiday photo shoot.
One by one, each Kardashian-Jenner made their debut during the 25 day countdown to Christmas. Even Dream Kardashian took front and center during Day 9. If you followed along on Kim, Kris, or Kourtney's Instagram in the past month, you saw Kanye, Kim, Kourtney, Kris, Khloé, Kendall, all the kids, and even Grandma M.J. You know who we didn't see after waiting 25 days? Kylie Jenner. The Christmas card reveal was a fun novelty and the family pictures are cute, but the whole thing felt a little disappointing with Kylie's absence.
Even weirder, after 25 days of continuous posting, Kim deleted all evidence of the family holiday card. She didn't even give us time to relish and screen shot, Day 26 came and *poof* all the photos were gone.
As it turns out, the pictures were always destined to be deleted. Kim took to Twitter to squash any and all rumors surrounding the mysterious Instagram purge. She said on Dec. 28,
Was always the plan. I archieved them so my instagram feed vibe is back
Kim wasted no time clearing up the rumors, but I can't help but wonder if Kylie did have a little bit to do with it. You know what else kills Kim's feed vibe? People desperately asking if Kylie is pregnant.
Since the reported pregnancy news broke about Kylie in September, she has remained M.I.A. — we've barely seen her out and her social media channels have slowed significantly. At this point, it's hard to know what the hell to believe.
Fans were hoping Kylie would use the yearly holiday card to FINALLY confirm her reported pregnancy, but she unfortunately did not. If the rumors are true (which is kind of hard to deny at this point), it actually makes a lot of sense that Kylie would stay in hiding. One source spilled the tea to People and explained why the youngest Kardashian-Jenner is choosing to stay out of the limelight. The source said,
Kylie wants to disappear and be out of the spotlight and focus on her health and happiness. Kylie isn't going to publicly address her pregnancy until she gives birth. She's not doing any public appearances and just wanted to take six months off.
Kylie did do a little something to spread holiday cheer. The starlet posted via Instagram herself on the cover of Love Magazine. OH YEAH, BUT IT'S ONLY FROM THE SHOULDERS UP AND SHE'S WEARING A THICK RED TURTLENECK. I honestly can't.
She looks gorgeous on the cover with her signature bright red lips and minimal makeup. The photo taken by Kendall doesn't really tell us anything about the reported pregnancy, which I'm sure was Kylie's intent the whole time. Basically, we won't get a definite answer about Kylie's reported pregnancy until she absolutely wants us to.
Luckily for us, one sister did confirm some very exciting news — Khloé took to Instagram to share her baby bump with boyfriend Tristan Thompson.
In the post on Instagram, Khloé said in the caption,
My greatest dream realized! We are having a baby! I had been waiting and wondering but God had a plan all along. He knew what He was doing. I simply had to trust in Him and be patient. I still at times can't believe that our love created life! Tristan, thank you for loving me the way that you do! Thank you for treating me like a Queen! Thank you for making me feel beautiful at all stages! Tristan, most of all, Thank you for making me a MOMMY!!! You have made this experience even more magical than I could have envisioned! I will never forget how wonderful you've been to me during this time! Thank you for making me so happy my love! Thank you to everyone for the love and positive vibes! I know we've been keeping this quite but we wanted to enjoy this between our family and close friends as long as we could privately. To enjoy our first precious moments just us Thank you all for understanding. I am so thankful, excited, nervous, eager, overjoyed and scared all in one! But it's the best bundle of feelings I've ever felt in my life!
Khloé and Tristan seem like an amazing couple and I'm so happy they can take this next step together. It looks like 2018 is going to bring a lot of exciting changes to the Kardashian-Jenner family. Personally, I am here for it.
Check out the entire Gen Why series and other videos on Facebook and the Bustle app across Apple TV, Roku, and Amazon Fire TV.