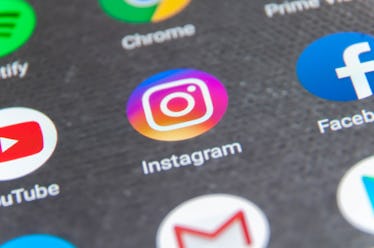 Here's How You Can Change Your Instagram Icon For A Home Screen Upgrade
chaofann/iStock Unreleased/Getty Images
With all the talk of customized iOS 14 Home Screens taking hours to complete, you might be focusing on the apps you use most, like Instagram. To celebrate 10 years of Instagram in October 2020, the company launched a limited-time hack that let you change your Instagram icon. It was an easy way to switch up your phone home screen, but it was only available for the month. With the Instagram icon feature gone from the app, you might be wondering if you can still change your Instagram app icon
The 12 specialty app icons Instagram rolled out for the month of October 2020 were super easy to use, but even though they're gone, the hype around customizable home screen redesigns remains. If you're planning a refresh but are having a hard time finding some of the most popular Instagram icon designs like the classic Polaroid-style button, here's what you should know.
Instagram's limited-time designs were easily accessed in your "Settings" by pulling your screen down until you saw a burst of confetti, but unless Instagram offers the feature again, you'll have to use a different method to change your Instagram app icon. Anyone with iOS 14 can change their Instagram icon by swapping out a photo of their choice with the Apple Shortcuts app.
Once you open up the Shortcuts app and create a shortcut action, you'll want to select the three dots menu located next to the shortcut, tap it again, then tap "Add to Home Screen." Next, tap on "Home Screen Name and Icon," and you'll be able to choose from any image in your camera roll to swap in for the original Instagram icon. You can find plenty of app icons to choose on Etsy.
You can also change your Instagram app icon if you have an Android phone with a few similar steps. To start, you'll want to long-press the shortcut then choose "Edit," per Android Tips & Hacks. Next, tap the icon box (a white circle with six dots) to get to Gallery apps. Tap that, then select "Documents," where you should have stored your custom icon. Tap the icon you want to use and center it in the box, and then tap "Done."
Yes, it's a little more work for either of these options, but the best part is that you can literally choose any image you want for the Instagram icon, making it so easy to personalize your home screen.
This article was originally published on