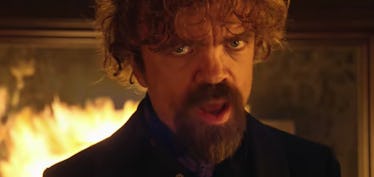 Peter Dinklage Raps In The Doritos Blaze Super Bowl Commercial & It's Everything
YouTube
I am ALWAYS down for some Peter Dinklage in my life. The actor has been killing the game for years in Game Of Thrones and recently starred in the award-winning film Three Billboards Outside Of Ebbing, Missouri. He seamlessly swings from drama to comedy and back again. What's his latest triumph? You guessed it – a Super Bowl commercial, and not just any commercial. He is the star of this year's Doritos ad. So, who's rapping in The Doritos Blaze commercial? It's clearly not Dinklage (he's just lip-syncing), but damn, it sure does sound good.
This year, PepsiCo is combining two of its favorite inventions by partnering Doritos Blaze with MTN DEW ICE for its Super Bowl commercial. Doritos Blaze is obviously a spicy version of maybe the most beloved chip of all time, and MTN DEW ICE is a refreshing spin on the neon soda we all know and (maybe not-so-secretly) love. The premise of the commercial is this: Dinklage and actor Morgan Freeman are facing off in a rap, lip-sync battle. Dinklage is team Doritos and Morgan Freeman is the face of DEW.
In the commercial, the actors go head-to-head lip-syncing two epic rap songs fans at home will most certainly recognize. Dinklage takes on Busta Rhymes' "Look At Me Now," and Freeman takes a stab Missy Elliott's "Get Ur Freak On." Both musicians are known for spitting lyrics and rhymes at wildly fast speeds, and watching Dinklage and Freeman attempt to wrap their mouths around the lyrics is so, so fun.
Take a look.
Let's be real, Dinklage wins. (No offense, Freeman.) Facts are just facts! A new dream of mine is to eat Doritos in a fancy ballroom that's on fire. I also love Busta Rhymes' and Missy Elliott's sweet little cameos.
This commercial is just one of the many that have been released before the big game on Sunday, Feb. 4. Back in the day, sports fans used to sit down and shut up during the commercials, considering they were often the best part of the game. Now, with things like live-streaming, instant replay, and the internet, it's way easier for folks to get up and leave during commercials to pound a beer bong or use the bathroom without the fear of missing something big... like Dinklage rapping, for example.
This new campaign is a hard left for the Doritos brand. For the past 10 years, Doritos did something called "Crash the Super Bowl," which gave regular old civilians a chance to create a Super Bowl commercial and win 1 million dollars.
Doritos' brand chief marketing officer, Ram Krishnan, explains that it's time to do something new. He told Fortune Live,
It [Crash The Super Bowl] started in 2006. To give you a perspective, MySpace was the most-visited website, Facebook was only in the dorms, iPhone hadn't come out until 2007.
He added,
Brands have to keep evolving with time. If you look at when we started the program, millennial consumers were the target. They've grown up... Our Doritos target is [now] Gen Z consumers and they're already content creators. You don't need a brand to play a role.
Mmm-hmm. Mmm-hmm. I'm sure I don't totally follow, but that sounds like it makes sense in the media world.
To catch all of the action, tune in to NBC or the NBC Sports app to watch the Philadelphia Eagles take on the New England Patriots. Kick off is at 6:30 p.m. EST, and be sure to get a corner couch seat so you can settle in for some sweet, sweet Dinklage.
Check out the entire Gen Why series and other videos on Facebook and the Bustle app across Apple TV, Roku, and Amazon Fire TV.