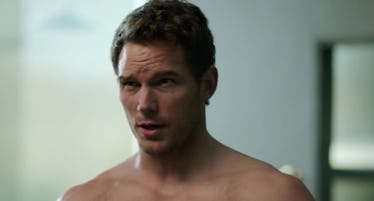 Chris Pratt Flexes Shirtless In His New Super Bowl Commercial & We're So Here For It
YouTube
Man, is this commercial right up my alley. I love Chris Pratt. I love the Super Bowl. And I love beer! (Actually, I don't really drink beer because it makes me sloppy and fall asleep in corners. But for this article's purpose, let's all just pretend I love it.) Chris Pratt's Michelob Ultra Super Bowl commercial combines all of these amazing things, plus one shirtless scene, and I am more than here for it.
2017 was a roller coaster for Pratt. He obviously continued to be one of our favorite comedic and action actors while simultaneously going through a super public and sad breakup. Fans were distraught to hear he and his wife of eight years, Anna Faris, were calling it quits back in August in 2017. However, this commercial proves he's on the mend, and is more hilarious (and so, so hot, like, Dear Lord) than ever.
The premise of the commercial is simple. Pratt thinks he booked Michelob's Super Bowl commercial and is filmed "training" for the part. This includes lifting weights, practicing his spokesperson voice, and doing a deep dive into beer culture. He hilariously sets up a Michelob bar in his home, and observes his friends as they drink the beer. Michelob's slogan is, "Live fit. Live fun. Live ultra," which... I mean... yeah. That sounds like Pratt to me.
In the commercial, Pratt even says, "You gotta be fit, and you gotta love beer. It's not like anyone else could do this."
THEN THERE'S A PLOT TWIST. Take a look.
Everyone knows the best part of the Super Bowl is the commercials. So, why were we gifted with this one a week early? I will never know. The point is, it's here, and I love it.
Pratt is following in the previous footsteps of fitness giant, Lance Armstrong, who appeared in Michelob ULTRA commercials back in the early 2000s. In doing my research, I've learned Michelob's whole thing is appealing to fitness freaks who like to get their booze on.
Look at this weirdly motivational commercial they had in the 2017 Super Bowl.
I don't know. Advertising is strange and probably going to ultimately lead to the demise of the human species. But, whatever.
In contrast to his commercial here, Pratt once thanked the absence of beer for his muscular physique. Back when he was first getting ripped, he shared a shirtless selfie on Instagram showing off his new abs. He wrote the caption,
Six months no beer. #GOTG Kinda douchey to post this but my brother made me.
First of all, no one's brother ever makes them post a selfie. Second, my, my, my, how the beer tables have turned.
Pratt's commercial will be just one of the many delightful moments in this year's big game. Besides watching 24-year-old Carson Wentz take on football giant Tom Brady, we can expect an awesome halftime show, too. Justin Timberlake is slotted to take the stage a whole 14 years after his famous "wardrobe malfunction" with Janet Jackson.
If you want to make sure you don't miss one moment of the big day, you can simply tune in to NBC for kick off at 6:30 p.m. EST. The network will also be showing Road to the Super Bowl, which will follow the Philadelphia Eagles' and New England Patriots' journeys to the big game. That will run until 1 p.m., when the Super Bowl Pre-Game begins. You'll know it's almost go-time when Pink sings the national anthem.
In the meantime, stock up on your Michelob ULTRA's and guacamole. I'll see you and Chris Pratt Sunday, Feb. 4, at the Super Bowl.
Check out the entire Gen Why series and other videos on Facebook and the Bustle app across Apple TV, Roku, and Amazon Fire TV.