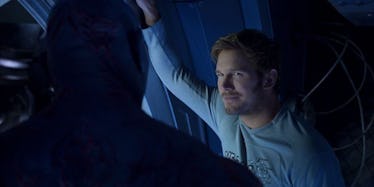 Chris Pratt Admits He Likes To Look At His 'Cut-Ass Butt Cheeks' In Funny Video
REX/Shtterstock
Chris Pratt's meals make absolutely zero sense to me.
I have really bad news. You know how Chris Pratt has a rockin' body nowadays? Well, he just posted an Instagram video showing exactly the kind of lunches he has in order to achieve that body and, not gonna lie, it's pretty depressing.
I've tried to think of a positive spin on this for a few minutes and honestly there is no way to say "eggs wrapped in soggy cucumber" in a happy way.
He captioned the post on Instagram with,
#WHATSMYSNACK today I got cucumber and egg wrap. It's basically exactly like a sandwich but instead of bread you use thinly sliced cucumbers and instead of meat you use sprouts and chopped up eggs and instead of flavor you get nutrition. Like I always said, eating is no longer the fun part, flexing my butt cheeks in the mirror is. Cause no dimples. No rolls. Just cut ass butt cheeks. LIVE WITH IT!!! #jurassicworld2
This isn't the first time Chris has played "What's My Snack" with his Instagram family. The game has seemingly become sooo popular Pratt felt it necessary to have apparel printed up for the "show."
Here is a small breakdown of the snacks during these editions of "What's My Snack?":
Cacao Baobab Banana Chia -- from what I can tell, this is a jar of brown mush. Expensive brown mush.
Olive Pistachio Cake -- this is an olive pistachio cake, not that either of those things should be eaten in cake form at all.
Assorted Sashimi -- this is... a regular meal.
Is the diet working, though?!?!
The cast of "Mom" on CBS thinks so.
Can you blame them?!?!
Here's to hoping "Jurassic World 2" involves Chris losing his shirt immediately and then being too busy to find it throughout the rest of the movie.