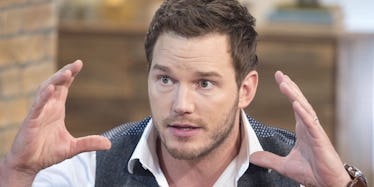 Chris Pratt Is All Of Us Trying Not To Eat Everything While On A Diet
REX/Shutterstock
Chris Pratt and his highway patrol/creepy perv mustache are on a diet, and we're all suffering along with him.
The actor is shooting "Jurassic World 2," and to stay super fit, he is on a prepared meal plan.
To remain entertained and keep himself from eating his own hands, Chris has turned his diet into an Instagram series called, "WHAT'S MY SNACK?"
His most recent snack was an olive oil pistachio cake the size of a newborn mouse.
He tried to save the snack for Friday, but was ultimately unsuccessful.
Chris told viewers,
Hey guys. Hi guys. Chris Pratt, here. Another episode of 'WHATS MY SNACK?' And, honestly, it's pretty late and I'm so hungry… It's 10:53 pm and I should go to bed, but instead I'm gonna maybe eat my snack for tomorrow. OOOOH! IT'S OLIVE OIL PISTACHIO CAKE! But I'm supposed to eat it tomorrow, not today… UHHHH but I'm gonna do it.
He also tried to choke down some sashimi or, as the action star referred to it in his caption, "cat food."
He narrated,
Hey gang, Chris Pratt, here, back with another segment of 'WHATS MY SNACK?' And today were trying some assorted sashimi… lets take a look. OHHH, ohhhh it's SO GOOD… mmmmm… this smells and tastes exactly like Berkley PowerBait, and I get it. I see why trout love it. It's so good, mm mm mmm. Totally raw fish. This is seaweed. MMMMMM, OHHHH, this is one of those things when — if you're as hungry as I am — everything tastes really good. But this is especially good.
The 37-year-old also choked down a cacao baobab banana chia shake, despite the fact he couldn't pronounce it.
He said,
Hey, Chris Pratt, here, on the set of 'Jurassic World 2.' …'WHATS MY SNACK?' Cacao, baobab, banana, chia… huh! Cacao, baobab, banana, chia. Ca… cao… baobab… banana… chia.
Stay strong, Chris. This food looks straight-up disgusting, but it gets these results:
Thank you, cacao baobab banana chia.