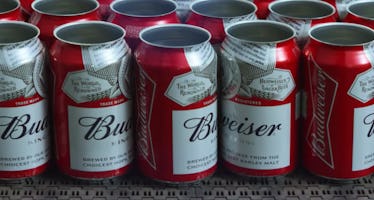 The Budweiser Super Bowl Commercial Is Here & It Will Make You Feel Things
YouTube
There are moments in your life when the universe forces you to stop and reflect. Crying about a beer commercial is definitely one of those times. The 2018 Budweiser Super Bowl commercial has arrived early, and it will make you feel things you didn't realize a beer could make you feel. For some reason, this company has a history of making emotional commercials, and they've hit the nail on the heart string yet again.
Think back to some of your favorite Super Bowl commercials. Are you remembering the unlikely story of a puppy and horse that became best friends? The story about the immigrant who came to America on a burning ship? The man who raised a baby Clydesdale to become a big brave Clydesdale? Yup. All Budweiser. Cried in every single one. This year, they're packing on the feelings again, and this time, they're hitting just a little closer to home.
To call 2017 a rough year is a massive understatement. The United States struggled with political upheaval, aggressive social issues, and numerous natural disasters. In the aftermath of some of our country's largest hurricanes, hundreds of thousands of people were left without water or electricity, with many of their homes and communities destroyed. This year's Bud commercial pays homage to the relief efforts demonstrated by Anheuser-Busch's employees and their emergency water program. Take a look.
How is everybody doing?
Budweiser shared they were able to provide almost 3 million cans of clean drinking water in 2017 in partnership with the American Red Cross. In the past 30 years, Budweiser employees have donated up to 79 millions cans of drinking water, and efforts to open another emergency water program brewery are underway.
The soundtrack to the commercial is the familiar tune "Stand By Me," originally created by Ben E. King. In Budweiser's version, the song is sung by five-time Grammy Award nominee Skylar Grey. In an effort to help raise disaster awareness and support, Grey and Interscope plan to donate a portion of the proceeds generated from the digital downloads of her "Stand By Me" recording to the American Red Cross, as well.
Grey spoke about the commercial with Billboard magazine, saying,
The Ben E. King version of "Stand By Me" is a total classic. When I recorded my version, I wanted to go in a more stripped-down, acoustic direction, as that's the sound I'm going for with my next album I'm currently working on. I'm taking it back to my roots and the music I grew up on, like Fleetwood Mac and Joni Mitchell. Also, I wanted it to be an emotional performance to really emphasize the message being portrayed in the Budweiser spot. The song was the perfect choice for Anheuser-Busch because it brings to life how they really do stand by communities in times of need after natural disasters.
This commercial is just one of the many amazing pieces of advertising viewers can catch on Super Bowl Sunday. Competing with Budweiser's commercial will be Chris Pratt's Michelob ULTRA spot, which I also love. In contrast to the touching undertones of this Bud commercial, Michelob went for something comedic instead.
In Michelob's commercial, a hilarious Chris Pratt trains to become the next spokesman only to discover he's been hired as an extra.
Michelob ULTRA's slogan is, "Live fit. Live fun. Live ultra," and Budweiser's is, "Whenever you need us. We'll stand by you."
(Have you guys ever paid this much attention to beer in your life?)
To catch all of the great commercials PLUS the big game, you'll need to tune into NBC this Sunday, Feb. 4. You can also stream all of the action on NBCSports.com or use the NBC sports app.
Kick off is at 6:30 p.m., but you can watch the Super Bowl Pre-Game Show beginning at 1 p.m., and Road To The Super Bowl (following the Philadelphia Eagles' and New England Patriots' journeys to the big game) at noon.
If you need me, I'll be snoozing most of the day. But, I promise to wake up in time to see this Budweiser commercial and to eat some guacamole, because I know what's important.
Check out the entire Gen Why series and other videos on Facebook and the Bustle app across Apple TV, Roku, and Amazon Fire TV.