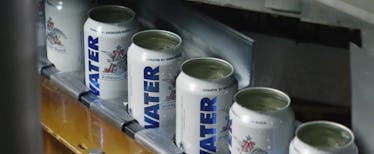 The "Stand By Me" Cover In Budweiser's Super Bowl Commercial Will Give You Chills
YouTube
Each year, football fans look forward to the big game at the Super Bowl, and the rest of us look forward to the commercials. Yes, it's that one time of year where we actually pay attention during the commercial breaks, and it is all because brands step up their game and premiere their very best ads. One of the commercials viewers always look forward to is Budweiser. The beer company has become known for consistently tugging at America's heartstrings with its uplifting ads, and this year is no different. Budweiser's Super Bowl commercial features a "Stand By Me" cover this year, and it is guaranteed to make you tear up.
While most brands will use their Super Bowl commercial slot to get attention by casting celebrities in crazy scenarios, Budweiser has carved a unique niche for itself over the years for putting out the most emotional and sentimental ads of the night. Last year, Budweiser got a bit political with a commercial celebrating immigration coming out immediately after the then newly-elected Donald Trump had called for a ban on Muslim immigrants into the United States. This year, Budweiser is yet again hitting viewers in the feels while also taking on one of Trump's unpopular decisions: his refusal to provide sufficient aid to Puerto Rico after Hurricane Maria devastated the U.S. territory.
The new Budweiser commercial focuses on a brewery in Cartersville, Georgia, which transformed its facilities to can water instead of beer, which were shipped to victims of natural disasters across the nation. The commercial shows this process, as the singer Skylar Grey delivers a heartfelt cover of the soul standard "Stand By Me." Check out the commercial for yourself below:
The Budweiser Super Bowl commercial highlights the company's Stand By You initiative. According to their website, Budweiser's brewery in Cartersville, GA has been canning and shipping water for disaster victims for the past 30 years. This new ad is also the company's announcement that it is outfitting a second brewery with water canning capabilities, which is located in Fort Collins, Colorado.
At the end of the new Budweiser ad, viewers see a few names of places that the beer company has donated water to, which have famously suffered devastating natural disasters over this past year. These include Florida, which was hit by Hurricane Irma; California, which dealt with massive wildfires; and Puerto Rico, which is still struggling to recover from Hurricane Maria. Although this is not inherently a political statement, it may be taken as a bit of shade towards the current administration, which had been widely critiqued for what was deemed a lackluster response to each of those disasters this past year.
What really drives the emotional message of the new Budweiser commercial home is the stirring cover of "Stand By Me" sung by Skylar Grey. Grey has been a hit-making songwriter and singer for years now, frequently lending her vocals to the hooks of popular rap songs like Eminem's "I Need a Doctor" and Fort Minor's "Where'd You Go." She most recently performed her collaboration with Macklemore "Glorious" at the American Music Awards last year, and she sang the song she wrote for Eminem and Beyoncé "Walk on Water" with Eminem on Saturday Night Live. Alongside Budweiser's release of the new commercial, Grey released her full cover of "Stand By Me," which you can hear in its entirety below.
Now that you have seen the heartwarming Budweiser commercial before the Super Bowl, you don't have to worry about getting too misty-eyed when it airs during the big game. Super Bowl LII is airing Sunday, Feb. 4 on NBC.