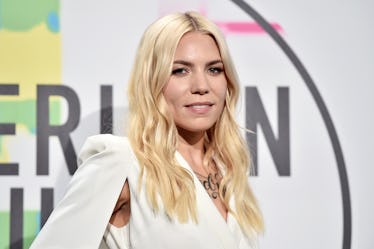 Here's The Talented Singer Who's Featured In Budweiser's Emotional Super Bowl Commercial
Alberto E. Rodriguez/Getty Images Entertainment/Getty Images
Budweiser may or may not be your beverage of choice while watching football, but there's no doubt that the beer brand excels in producing emotional Super Bowl commercials that hit you right in the heart. The company's 2018 ad proves no different, emphasizing relief efforts in areas severely damaged by natural disasters in the past year. Singing "Stand By Me" in Budweiser's Super Bowl commercial this year, performer Skylar Grey has delivered a version of the classic song perfectly tuned for the ad's heartfelt message.
Originally released in 1961 by artist Ben E. King, Grey's "Stand By Me" accompanies employees of the Anheuser-Busch brewing company donating emergency drinking water to natural disaster victims in California, Florida, Puerto Rico, and Texas. Although you may not recognize her name, 31-year-old Grey is a five-time Grammy nominee who previously collaborated with Eminem and Dr. Dre on the nominated rap song "I Need a Doctor." She first worked with Budweiser on its 2014 Super Bowl ad about a soldier returning home from war, but this year's ad is particularly relevant to the country's current status.
Speaking to Billboard, Grey said of the new ad:
The Ben E. King version of "Stand By Me" is a total classic. When I recorded my version, I wanted to go in a more stripped-down, acoustic direction, as that's the sound I'm going for with my next album I'm currently working on. I'm taking it back to my roots and the music I grew up on, like Fleetwood Mac and Joni Mitchell. Also, I wanted it to be an emotional performance to really emphasize the message being portrayed in the Budweiser spot. The song was the perfect choice for Anheuser-Busch because it brings to life how they really do stand by communities in times of need after natural disasters.
Grey's other projects have had a significant impact on the music world. Her song "I Know You" was included on the Fifty Shades of Grey soundtrack, while a partnership with David Guetta led to the song "Shot Me Down." Grey also wrote the song "Love the Way You Lie," which Rihanna and Eminem ended up performing, but an original demo of the song featuring Grey's vocals exists online. Um, can I start a petition to bring this back on the radio, like, ASAP?
You probably also recognize her song "Coming Home," which was featured on her inaugural Budweiser ad:
She has also maintained her professional relationship with Eminem, accompanying him during a November 2017 medley performance on Saturday Night Live. The only bad thing about this was that episode host Chance the Rapper didn't jump in at some point.
Grey's version of "Stand By Me" is now available for digital download, but she and her team plan to draw out the charitable message behind the song. Alongside her record label Interscope, Grey will donate a portion of song's proceeds to the American Red Cross, a move that perfectly suits the ad's philanthropic theme. In her Billboard interview, Grey explained the decision to contribute the song's partial proceeds:
I feel grateful to be able to take part in such a good cause on such a large scale. Also, I wanted there to be a way my fans could help as well, so Interscope is donating 25 percent of the proceeds from domestic digital downloads and streams of my version of "Stand By Me" directly to the American Red Cross to provide additional support for natural disasters.
Following the ad's official debut during the Super Bowl, Anheuser-Busch also plans to add a second brewery to its emergency water program later this year. It's clear that both Budweiser and the artists it collaborates with aim for so much more than just a memorable commercial in its Super Bowl slot. Congrats to Grey for making both a beautiful song and a noteworthy impact on disaster relief!