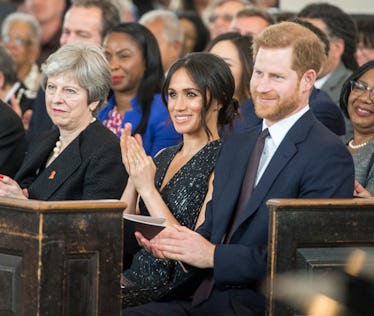 A U.S. Bishop Will Give The Address At Meghan Markle & Prince Harry's Wedding
WPA Pool/Getty Images Entertainment/Getty Images
The one-week countdown to the Royal Wedding is officially here, and the Palace is only continuing to increase the wedding frenzy by slowly releasing tidbits of information. Now, I'm even more excited for Meghan Markle and Prince Harry's big day. Today's royal news is heartwarming (even though it's not the wedding dress reveal we've been anxiously waiting for). Meghan Markle is reportedly bringing a bit of home to her wedding day when she makes her walk down the aisle across the pond, and this special ceremony detail is giving me all the feels. On May 11, Kensington Palace finally revealed who will give the address at the royal wedding — and surprisingly, it's a complete to the British monarchy. Instead, a prominent U.S. bishop will be making the cross-Atlantic trip to deliver important remarks at the ceremony.
In a statement released by Kensington Palace on Friday, May 11, a spokesperson confirmed that Prince Harry and the American-born Suits actress will be infusing their Windsor service with a touching tribute to her home country, courtesy of an important member of the clergy. The couple has asked The Most Reverend Michael Bruce Curry, the 27th Presiding Bishop and Primate of the Episcopal Church, to deliver an address and celebrate their love at their Saturday, May 19 nuptials.
This move is the latest to set the ground-breaking pair apart from their predecessors. Prince Harry and Meghan Markle have already deviated from royal protocol almost every step of the way during their wedding planning, and I love them for it. From a quirky lemon elderflower-flavored cake to their St. George's Chapel venue and a smaller-scale royal procession through the town of Windsor, this couple is already starting to modernize and change the British monarchy while making their special day their very own.
I mean, even their wedding date flouts tradition. Unfortunately for British citizens, they won't be getting an extra day off, aka a "Bank holiday," because Prince Harry and Meghan Markle are celebrating their everlasting love on a Saturday, not a traditional work day. If you remember, Prince William and Kate Middleton were wed on a Friday, and the British people were gifted a day off where they could watch the fairytale procession, complete with that epic royal kiss. According to British Prime Minister Theresa May, that won't be happening this year, although the ceremony does fall over the weekend, Business Insider reports. Regardless, a Saturday ceremony will make it that much easier for us Americans to tune into the nuptials and pop some champagne at our watch party without playing hooky from work (even though it'll be super early for everyone in the United States).
Anyway, no surprises here: The Chicago, Illinois-based Presiding Bishop Curry was all too happy to oblige Prince Harry and Meghan Markle's request, and he'll be making some remarks at the royal ceremony alongside the The Dean of Windsor, The Rt. Revd. David Conner, who will conduct the Service, according to Kensington Palace. Just days ago, it was also announced that the Archbishop of Canterbury, Justin Welby, will be officiating the vows and making the newlyweds "Man and Wife."
"The love that has brought and will bind Prince Harry and Ms. Meghan Markle together has its source and origin in God, and is the key to life and happiness," The Most Reverend Curry said in the Kensington Palace statement. "And so we celebrate and pray for them today."
Maybe it's just me, but this addition to the wedding crew seems like just another sweet, meaningful way for Markle to swap out "something old" for her new "happily ever after" as a princess.