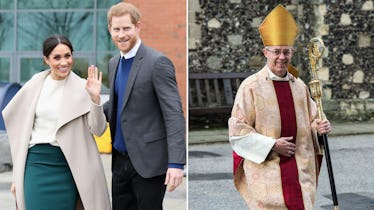 Here's Who Will Officiate Prince Harry & Meghan Markle's Wedding, If You Were Wondering
Chris Jackson/Getty Images Entertainment/Getty Images/Chris J Ratcliffe/Getty Images News/Getty Images
Hear ye, hear ye! The royal wedding is less than two weeks away, and that means all the royal details are currently being ironed out. And, just like with a regular wedding, there is a ton of coordinating that goes on before the big day. From the ceremony to the reception, there are plenty of super important people doing incredibly important things for the soon-to-be Mr. and Mrs. But one of the most important people (in my opinion, at least) is who will be officiating the royal wedding. Because without that person, that whole "I now pronounce you husband and wife" thing wouldn't even occur, and, let's be honest, that's the entire point of a wedding.
The person responsible for officiating the royal wedding is Justin Welby, the Archbishop of Canterbury. The Most Revd Justin Welby was enthroned in March of 2013 and is the 105th Archbishop of Canterbury. According to Anglican Communion, the Archbishop has several roles to fulfill and "has this title in recognition of his lead ecclesiastical role in England. The Church of England has 13,000 parishes. He is regarded as the nation's senior Christian and spiritual voice."
In other words: The man is very, very important.
And just a fun fact: Justin Welby succeeded Rowen Williams, who conducted Prince William and Kate Middleton's wedding. The more you know, right?
Meghan and Harry's royal wedding ceremony will take place in St. George's Chapel at Windsor Castle on Saturday, May 19, and music for their wedding service will "include a number of well-known hymns and choral works under the direction of James Vivian, director of music at St. George's Chapel," according to Vogue. So we've got two very important people getting married, a very important person conducting the ceremony itself, and an important person conducting the music, too. Check, check, check.
Kensington Palace released a statement regarding the royal couple's nuptials, saying,
This wedding, like all weddings, will be a moment of fun and joy that will reflect the characters of the bride and groom. The couple of course want the day to be a special, celebratory moment for their friends and family. They also want the day to be shaped so as to allow members of the public to feel part of the celebrations too.
"The Dean of Windsor will conduct the service and the Archbishop of Canterbury will officiate as the couple make their vows," according to Vogue, and after the two officially tie the knot, "they will undertake a carriage procession from St George's Chapel through Windsor town returning to Windsor Castle along the Long Walk," in hopes that the small trip will provide for more commoners to celebrate and enjoy the royal couple's big day.
But after the Archbishop of Canterbury officiates, and after the formal carriage procession is over, it's totally time to party, with a reception at St. George's Hall, which is the biggest room in Windsor Castle, so NBD.
And if you want to know if St. George's Hall resembles a regular ole' wedding venue, prepare to have your mind blown:
Is it just me, or is this a room straight out of the Harry Potter movies?
All it needs are some floating candles. And goblets of fire. And wizards.
While some parts of the royal wedding remain shrouded in mystery (like what Meghan Markle's wedding dress will look like), others have been handed to us on a royal platter, like their untraditional lemon elderflower wedding cake, and their florals, which will reportedly include wildflowers and white garden roses to honor Princess Diana.
It might seem like you can hardly wait to see the big reveal for everything else regarding the royal wedding, but considering we can *almost* count down the days on two hands, I think it's safe to say that we can all hold out juuuust a bit longer.