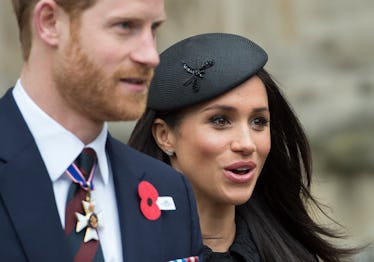 4 Places To Watch The Royal Wedding That Are Much Better Than Your Couch
WPA Pool/Getty Images Entertainment/Getty Images
Grab your most stylin' headwear, folks. Wedding bells are about to ring for Prince Harry and Meghan Markle and the world is waiting to watch the ceremony in all its royal glory. For Americans, that means setting an alarm and putting on that coffee pot pronto. While it may start at the reasonable hour of 12 p.m. in London, it won't kick off until 7 a.m. ET here in the United States. But you don't have to tune in at home. There are a handful of places to watch the royal wedding if you're looking to get in on the action in a way that doesn't include your own sofa.
While many viewers are planning on setting up early-bird parties for the occasion — there's a reason I've been googling "how to make Yorkshire pudding" for the past few days — you might want to get out there and enjoy the festivities with an enthusiastic group. This event is kind of a big deal, so some restaurants, hotels, and bars are participating by hosting their own royal wedding celebrations. The broadcast is even hitting movie theaters. You might be able to find some local viewing parties in your area — here are a few suggestions for ways to watch across the country.
1. Go To A Theater Near You
Want to watch Meghan walk down the aisle on the big screen? BritBox and Fathom Events plan on hosting theatrical viewings of ITV's coverage of the big day. The festivities commence at 10 a.m. local time on May 19 and run for three hours and 30 minutes. That's roughly 15 minutes longer than Titanic for reference, but it should have a way happier ending. You can check out Fathom's website to find out if the royal wedding will be screening at the theater close to you.
2. Celebrate In Style At A Posh Hotel
If you're in the New York area, the famed Gansevoort Meatpacking District Hotel is hosting a royal viewing party complete with a classic English breakfast, a selection of teas, signature drinks such as The Marketini, and more surprises. Delightful, indeed!
The legendary Plaza Hotel will be serving up a Royal Wedding Champagne Breakfast Viewing Party in The Palm Court. Don't forget to dress to impress.
The Drake hotel in Chicago is offering a Royal Wedding Screening Party in its own Grand Ballroom, which will feature a "swanky luncheon" and "the exact luncheon menu served to Princess Diana during her visit to the hotel in 1996."
The Mandarin Oriental Boston will host a half-hour rosé reception followed by afternoon tea service at its Royal Wedding Tea and Viewing Party.
But those swanky spots are just the beginning. Hotels across the entire country are planning on royal wedding viewing parties.
3. Take It All In At A Pub Or Restaurant
Going to the bar at 7 a.m. isn't usually the best idea, but this is different. It's possible that your local watering hole or regular haunt will be airing the nuptials, so it's worth checking with them.
If you're in Los Angeles or the vicinity, The Cat and Fiddle is having a Royal Slumber Party. Get ready for a costume contest, trivia, a raffle, and British goodies.
Check out OpenTable for a list of restaurants that will be celebrating the royal wedding leading up to the big day if you want to get the party started.
4. Pretend You're There With A Pop-Up
DC's Drink Company pulled off jolly pop-up to mark the world-famous "I dos," which is open from May 4 until May 20. The space is full of intricate details that make you feel like you're at St. George's Chapel — it even features a replica of that lemon and elderflower wedding cake the guests will be chowing down on. The venue will of course have a viewing party on the morning of May 19 when Meghan and Harry tie the knot.
Oh, the possibilities. Your bed might be cozy, but when's the next time you're going to get a chance to celebrate a royal wedding like this?