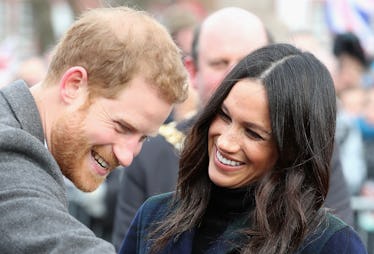 Here Are All The Ways To Watch The Royal Wedding Live, So You Don't Miss A Thing
Chris Jackson/Getty Images Entertainment/Getty Images
The Royal wedding is fast approaching and everyone's dying to know how they can watch the nuptials take place. Will the Royal wedding be on TV? The answer to that is a simple yes! So, aside from attending the highly anticipated event in person, you should be able to catch a glimpse of Meghan Markle and Prince Harry from anywhere in the world.
For those of you wondering how to tune in to the event of the year, here's a breakdown of which media outlets are covering the wedding and what time you can watch on May 19:
E! News
As always, E! will be right on the pulse of the latest royal wedding news. They'll start their live broadcast at 5 a.m. ET the morning of the wedding. In case you can't manage to wake up that early on a Saturday, E! will also be doing a recap of the big day that night, so you can catch all the important moments then, too.
NBC
Savannah Guthrie, Hoda Kotb, Kathie Lee Gifford, and Megyn Kelly will be on hand for royal wedding coverage for NBC. They'll be overlooking Windsor Castle and their coverage starts at 4 a.m. ET.
CBS
If you're tuning in to CBS for royal wedding coverage, Gayle King and Kevin Frazier will be your hosts. They'll start their coverage super early at 4 a.m. ET, so be sure to set your alarm clocks. Later that night, at 8 p.m. ET, CBS will air a two-hour special called Royal Romance: The Marriage of Prince Harry and Meghan Markle.
ABC
ABC is enlisting the help of Robin Roberts and David Muir for a special airing of Good Morning America. The two co-hosts will kick things off at 5 a.m. ET. The five-hour broadcast will also be streamed live on ABCNews.com and GoodMorningAmerica.com, as well as ABC's mobile app. Be sure to check their social media platforms for more bits of coverage, too.
FOX News Channel
FOX News Channel will providing extensive live coverage of the event. News anchors Shepard Smith and Sandra Smith will be live from outside St. George's Chapel at Windsor Castle, so they'll be on the ground and bringing you the latest from England. News coverage starts at 6 a.m. ET. You can also expect to see news anchor Ainsley Earhardt, as well as foreign affairs correspondents and experts, weighing in on the royal nuptials.
There will also be coverage prior to the wedding. On Thursday, May 18, Ainsley Earhardt will co-host FOX and Friends live from Windsor from 6 a.m. to 9 a.m. ET. That same day, Sandra Smith will co-host America's Newsroom live from Windsor from 9 a.m. to 11 a.m. ET.
TLC
If you have cable, then TLC is a must-watch. Their special four-hour coverage of the royal wedding starts at 5 a.m. Later on that evening, at 10 p.m., TLC will premiere an hour-long special called Royal Wedding Revealed. Don't miss it!
PBS
PBS is doing all royal family enthusiasts a solid by airing a special series called Royal Wedding Watch from May 14-18. It airs nightly at 10 p.m.
In theaters
Nearly 200 cinemas in the United States are partnering with Fathom Events and BritBox to bring the royal wedding to a theater near you. The commercial-free show will start at 10 a.m on May 19, so check your local theaters!
Basically, all these networks (and theaters!) have you covered if you're determined to watch the royal wedding live. They'll be capturing all the important royal moments, as well as Harry and Meghan making their love for each other official. So, be sure to set your alarms, get your DVRs ready, grab some snacks (or coffee, since it's so early in the morning), and buckle down because this wedding is going to be a wild ride!