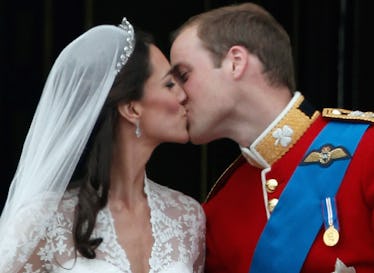 This Is How The Balcony Kiss Tradition Started At Royal Weddings, & It's So Sweet
Christopher Furlong/Getty Images Entertainment/Getty Images
Few things are more romantic than an epic kiss between two lovers, à la Romeo and Juliet. But when there's a balcony involved, and when the lovers involved are two newlywed royals, the romance meter kicks up a notch. Balcony kisses hold a pretty big traditional significance for the British royal family, so much so that the balcony kiss is easily one of the most highly anticipated moments of a royal wedding. So, why do royals kiss on a balcony? Specifically, the famous balcony at Buckingham Palace? Let's face it: Royal decorum is so heavily steeped in tradition, it can be difficult to stay up to snuff on how these traditions started in the first place.
While it may be fun to think that this choreographed private moment in public has been happening forever, it's actually a fairly new tradition. According to Britain Magazine, Queen Victoria was the first to address the public from the balcony at Buckingham Palace in London, after her 1840 wedding to Prince Albert. Primarily utilized as a way for royals to greet the masses, it was a pretty long time before a royal couple ever actually kissed during a balcony appearance.
According to Town & Country, the royal family used the balcony a second time in 1858, after the wedding of Princess Victoria (the Queen's daughter). Thereafter, the post-wedding balcony address became standard protocol for the royal brides and grooms. Prince Charles and Lady Diana Spencer, however, were the first to actually lock lips for the world to see, and considering their wedding didn't happen until the summer of 1981, it was a whopping 141 years after Queen Victoria's first balcony appearance before the royal balcony served as a place for public, post-nuptial pecks.
While the video evidence shows that the kiss couldn't have been any shorter —while still falling into the category of "kiss" rather than "intentional face boop" — it was a kiss that was felt around the world.
The second royal balcony kiss was between Prince Andrew (Queen Elizabeth's second son, and youngest child) and Sarah Ferguson, during their wedding celebration in the summer of 1986. And while the sincerity of the kiss seems leaps and bounds better than that of Prince Charles and Diana, Prince Andrew and Sarah Ferguson ended up divorcing in 1992.
The third, and most recent royal balcony kiss was between Prince William and Kate Middleton after their wedding ceremony in the spring of 2011. And while it did seem to, again, be a rather brief peck, it's probably safe to assume that more passionate kisses are probably a no-go.
The next logical question is — what about Prince Harry and Meghan Markle? If there was ever a royal couple that would be brazen enough to turn up the heat on a balcony kiss, these two are by far our best bet. But sadly, they might not even have the opportunity to put their love on blast. The couple will be tying the knot in St. George's Chapel at Windsor Castle, which is sadly balcony-less, royal expert Katie Nicholl told Entertainment Tonight. And while it may be tempting to hope that they will make the hour-long trek back to Buckingham Palace for an iconic, post-nuptial balcony kiss, there's certainly a chance that this won't happen. But at the end of the day, we'll just have to keep our fingers crossed and wait and see how everything unfolds.
Check out the "Best of Elite Daily" stream in the Bustle App for more stories just like this!