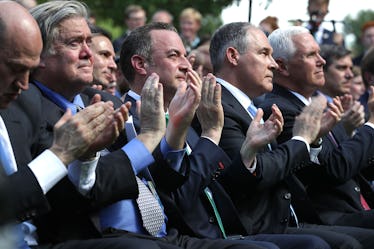 You Probably Don't Even Remember That These People Worked For The Trump White House
Chip Somodevilla/Getty Images News/Getty Images
On Tuesday, March 7, the White House announced the resignation of Gary Cohn, President Donald Trump's chief economic adviser. The departure is reported to stem from a disagreement on a major economic policy — Trump's proposed tariffs — but beyond Cohn's singular case, there's a bigger picture. So many major Trump appoints have left the White House in the past 13 months that it takes some effort to remember: Who has left Trump's White House so far?
The list includes over a dozen former staff members.
UPDATE: On March 13 2018, President Trump announced via Twitter that Secretary of State Rex Tillerson was also out, and would be replaced by CIA Director Mike Pompeo. In his tweet, Trump thanked Tillerson for his service, but later said that he had not discussed the change with Tillerson himself. In a statement about his departure, a spokesperson for Tillerson said, "The Secretary did not speak to the President and is unaware of the reason, but he is grateful for the opportunity to serve, and still believes strongly that public service is a noble calling."
EARLIER: Some of the staff members have left under quiet circumstances, departing with little damage to their reputations. Many, though, either resigned while at the center of controversies or were fired as part of a staff shake-up under Trump's chief of staff John Kelly.
The names include high profile political figures, like Steve Bannon, the former head of Breitbart News who worked as a leader of Trump's presidential campaign.
Also on the list of departed staff members is Omarosa Manigault-Newman, a former contestant of The Apprentice, whose departure was arguably the most dramatic of them all.
Both Omarosa and Bannon are featured on this list of 17 former staff members, labeled in order from the first departure to the latest.