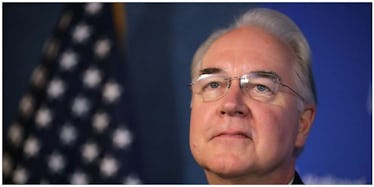 Trump's Health Chief Tom Price Just Resigned And People Are Shook
Chip Somodevilla/Getty Images
At this point, it kinda seems like Queen's seminal hit "Another One Bites The Dust" should be the theme song for the Trump administration. Since the president entered The White House in January 2017, 10 key government officials have either been fired or quit – and now we have one more to add to that list. Health chief Tom Price resigned on Sept. 29, after receiving mountains of backlash for taking private plane trips on the taxpayer's dime.
On Sept. 21, Politico reported that Price had made at least 24 taxpayer funded trips on charted jets, which cost more than $500,000 altogether.  The now former health and human services secretary used jets for government business trips, including a short trip between Washington and Philadelphia. In June, Price also flew from Washington to Nashville on a government jet, which cost a total of $17,760 roundtrip. He spent less than six hours in the city before turning around.
Some of those trips mixed business with pleasure. Price flew out a day and a half before he was supposed to attend a medical conference in Georgia, in order to spend time at a resort with his wife. He also dined with his son during one of his business trips.
Richard Painter, former ethics official for President George W. Bush, told Politico that those actions are cause for concern. He said,
If [Price] flew out there commercial and he had a lunch with his son, no one would bat an eyelid. But he's combining all these different ways of stretching it.
Politico noted that Price's predecessors, Sylvia Mathews Burwell and Kathleen Sebelius, both flew commercially while traveling throughout the United States.
This is all very ironic, given the fact that Price has been an outspoken critic of wasteful government spending. Back in 2009, Price slammed excessive government jet use, telling CNBC,
I think we've made it halfway of where we ought to and that is cut it from eight to four jets. Now we need to cut it from four jets to zero jets. This is just another example of fiscal irresponsibility run amok in Congress right now.
After Politico released Price's flight records, the health and human services secretary tried to make amends. On Sept. 28, Price apologized for his use of government jets, and promised to write a check to the U.S. Treasury for the flights he had taken. According to the Washington Post, he said,
I regret the concerns this has raised regarding the use of taxpayer dollars. All of my political career, I've fought for the taxpayers. It is clear to me that in this case, I was not sensitive enough to my concern for the taxpayer. I know as well as anyone that the American people want to know that their hard-earned dollars are being spent wisely by government officials.
Meanwhile, Trump criticized Price's decision to fly on government-chartered jets, but declined to say whether or not he would dismiss the health and human services secretary. On Sept. 27, he told reporters,
We'll see. I was looking into it, and I will look into it. And I will tell you personally, I'm not happy about it. I am not happy about it. I'm going to look at it. I am not happy about it, and I let him know it.
Well, we know how that turned out.
In Price's resignation letter, he wrote that he regretted that "the recent events have created a distraction from ... important objectives." He added,
Success on these issues is more important than any one person. In order for you to move forward without further disruption, I am officially tendering my resignation as the Secretary of Health and Human Services effective 11:59 PM on Friday, September 29, 2017. You may rest assured that I will continue to support your critical priorities going ahead because failure is not an option for the American people.
Price's resignation ignited a whole flurry of amusement on Twitter – and a whoooole lot of plane puns.
Here's hoping that someone at the White House has the comedic sense to play "Leaving On A Jet Plane" just as Price heads out for the last time.