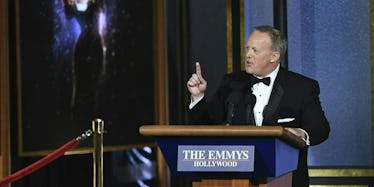 Sean Spicer Admits He Regrets Lying About Inauguration Crowd Size
FREDERIC J. BROWN/AFP/Getty Images
President Donald Trump's former press secretary's reemergence into the national spotlight now features another staple: an admission. That admission came in an interview with the New York Times, during which Sean Spicer says he regrets inauguration crowd size fights with media members. Referencing his regret, Spicer told the newspaper bluntly,
Of course I do, absolutely.
The period for which Spicer now expresses regret stems from his very first appearance at the press secretary's podium at the White House. During that appearance, Spicer told a crowd of reporters that witnessed President Trump's inauguration last January,
This was the largest audience to ever witness an inauguration — period — both in person and around the globe.
Comparisons of photos taken at former President Barack Obama's 2009 inauguration and President Trump's, among other evidence, showed Spicer's claim to be false. However, Spicer also claimed that photo comparisons were misleading, given what he said was an unprecedented use of floor coverings on the National Mall. The former press secretary said at the time,
This was the first time in our nation's history that floor coverings have been used to protect the grass on the Mall. That had the effect of highlighting any areas where people were not standing, while in years past the grass eliminated this visual.
Spicer's claim about the floor coverings was also false. Pictures taken at Obama second inauguration, in 2013, show spectators sitting on floor coverings. After Spicer made those claims, it was also reported that President Trump pressured the National Park Service to produce evidence that media reports about Trump's inauguration crowd size being smaller than previous inaugurations were false. Michael Reynolds, the acting director of the National Park Service, confirmed as much.
Spicer's interview with the Times came on Monday morning, Sept. 18, just a day after the former press secretary made a previously unannounced appearance at Sunday's Emmy Awards ceremony, where he satirized his infamous inauguration crowd-size comments. Spicer told the audience at the awards,
This is the largest audience to witness the Emmys, period. Both in person and around the world.
The appearance itself came months after Spicer resigned as press secretary, following Trump's hiring of Wall Street financier Anthony Scaramucci as White House communications director, whose appointment Spicer disagreed with. Scaramucci would only last 10 days at the White House, and his firing came before his official tenure as communications director began.
Spicer's appearance at the Emmys, and his subsequent interview with the New York Times, appear to be part of an effort to reemerge from his disappearance from the spotlight following his departure from the White House. Regarding his Emmy appearance, Spicer told the Times that he hopes the president would take no offense,
I certainly hope not. This was an attempt to poke a little fun at myself and add a little bit of levity to the event.
Days before the Emmy Awards aired, Spicer made another stop in Hollywood, this time for a late night interview on ABC's Jimmy Kimmel Live. During that particular interview, Spicer explained his role at the White House, saying,
Your job as press secretary is to represent the president's voice and to make sure that you are articulating what he believes … whether or not you agree or not isn't your job. Your job is to give him advice, which is what we would do on a variety of issues all the time. But ultimately, he's the president. He would say 'I agree with you' sometimes, or 'That's a good point,' incorporate it; or sometimes he would say, depending on the issue, 'Look, I know what I believe, and this is what I think the right thing to do is.'
If the theme of his recent television appearances is any indication, this probably won't be the last time Spicer is providing a retrospective interview.