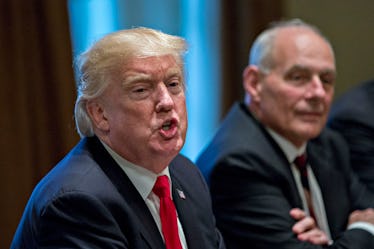 Trump Won't Publicly Denounce Domestic Violence & It's Causing A Big Controversy
Pool/Getty Images News/Getty Images
On Wednesday, Feb. 7, White House staff secretary Rob Porters announced that he would resign. The departure was prompted by two ex-wives of Porter going public with claims of domestic abuse against him, with one former spouse sharing photos of damage she claims was suffered at his hands. Then, on Friday, Feb. 9, another White House staffer, speechwriter David Sorensen, resigned following allegations of domestic abuse. With this happening, President Donald Trump's comments about domestic violence have sparked controversy at the White House, as his public comments on the subject have been more about those accused of domestic violence than about the alleged victims themselves.
Sorensen denied the allegations, White House spokesman Raj Shah said, according to The Los Angeles Times, and Porter also denied the allegations made against him, calling them "simply false."
On Friday, Feb. 9, Trump addressed Porter's resignation in front of reporters at the White House for the first time. The president told media members, per The Washington Post,
It's a, obviously, tough time for him. He did a very good job when he was in the White House. And we hope he has a wonderful career, and hopefully he will have a great career ahead of him. But it was very sad when we heard about it. And, certainly, he's also very sad. Now he also — as you probably know, he says he's innocent, and I think you have to remember that. He said very strongly yesterday that he's innocent. So you'll have to talk to him about that. But we absolutely wish him well. Did a very good job while he was at the White House.
The next day, the president took to Twitter to talk about the subject of allegations, again focusing on the potential innocence of the accused.
"Peoples lives are being shattered and destroyed by a mere allegation," Trump said on Twitter. "Some are true and some are false. Some are old and some are new. There is no recovery for someone falsely accused - life and career are gone. Is there no such thing any longer as Due Process?"
On the one hand, the president's words on Twitter allude to a basic American principle: innocent until proven guilty.
"Above all, the president supports victims of domestic violence and believes everyone should be treated fairly and with due process," White House Press Secretary Sanders Sanders said during a press briefing on Monday, Feb. 12. "We've addressed this situation extensively and we have nothing more to add at this time on the topic."
But on the other hand, the lack of comment from the president about domestic violence victims is indicative of what Trump himself thinks about how important, or unimportant, they are in regards to the wider discussion about abuse.
Trump use the weight every president's words carry to denounce domestic violence, something Republican senator Joni Ernst (IA) echoed publicly. "I think [Trump] needs to send a stronger message," Ernst told CNN on Tuesday, Feb. 13. "We need to send a very clear signal that it won't be tolerated and it won't be tolerated with our employees,"
Instead, the president's comments about Porter so far have reinforced the idea that even the most detailed and credible claims shouldn't be weighed as much as an accused person's proclamation of innocence, even at a time when the rate of false reporting in sexual violence cases is between 2 and 10 percent, according to the National Sexual Violence Resource Center.
That reinforcement was not lost on Jennifer Willoughby, one of the two ex-wives who accused him of abuse.
"There it is again. The words 'mere allegation' and 'falsely accused' meant to imply that I am a liar," Willoughby wrote in an op-ed for Time. "That Colbie Holderness [another ex-wife] is a liar. That the work Rob was doing in the White House was of higher value than our mental, emotional or physical wellbeing. That his professional contributions are worth more than the truth. That abuse is something to be questioned and doubted."
Trump's much-criticized responses are made all the more glaring by the fact that his own staff members have approached the subject differently.
For example, White House spokesman Raj Shah essentially told reporters that the White House could have done a better job of responding to reports of past abuse allegations made against Porter, specifically after multiple reports indicated that officials inside the West Wing knew about the allegations before they became public knowledge.
"I think it's fair to say that we all could have done better over the last few hours, or last few days, in dealing with the situation," Shah told reporters on Thursday, Feb. 8, "but this was a Rob Porter that I and many others have dealt with … and the emerging reports were not reflective of the individual who we had come to know."
Kellyanne Conway, a senior aide to President Trump, told CNN's Jake Tapper that she was "horrified" when she heard about the allegations against Porter. "I have no reason not to believe the women, and a week ago I had no reason to believe that that had ever happened," Conway said.
In contrast, Trump's statements on Porter have resulted in scrutiny even from media outlets that typically avoid harshly criticizing the president.
In an interview with White House spokesman Hogan Gidley, Fox & Friends' Ainsley Earhardt said, "Will you and Sarah Huckabee Sanders, will y'all get together and maybe advise [the president] and talk to him about, this is an opportunity when he can come out against domestic violence? I mean, those pictures are horrific."
That the president has yet to make comments about Porter's resignation that focus on the domestic violence victims has quite simply prompted questions of how seriously the White House takes the issue.