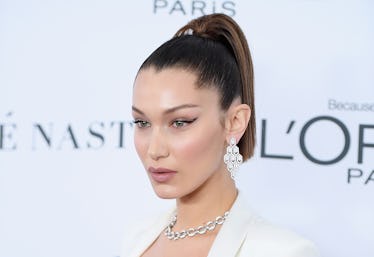 Bella Hadid Is Reportedly "Hooking Up" With This Athlete, So She DGAF About The Weeknd – UPDATE
Dimitrios Kambouris/Getty Images Entertainment/Getty Images
Ah, millennial celebrities. So rich. So beautiful. So young. So free to date whoever they want and (probably) never have to withstand the trials and tribulations of being stood up by a man named Zeek from Instagram who loves fencing, Beavis and Butt-Head, and eggplant. How nice for them. Supermodel Bella Hadid has recently been linked to a new man, and we suspect they didn't find each other on Hinge. So, who is Bella Hadid dating? Oh, just a casual, everyday, NBA player named Jordan Clarkson. Obvi.
UPDATE: Hadid has responded to reports that she's dating NBA player Jordan Clarkson. The model replied to a tweet from Perez Hilton. The tweet from Hilton read, "Sorry, @theweeknd! @bellahadid is reportedly now "hooking up" with NBA stud @JordanClarksons!" Hadid replied to the tweet saying, "I am?" with a confused face emoji.
EARLIER: As you and I both know, Hadid's first and most famous relationship came to end when she and The Weeknd broke up in 2016. Since then, Hadid was briefly linked to Drake, though that rumor came and went without much noise. Now, Us Weekly is reporting that Clarkson, 25, is going out of his way to court The Victoria's Secret model. According to an insider, the two are "hooking up." Whatever that means.
According to the magazine, Hadid and Clarkson hung out after the Lakers lost to the New York Knicks in New York City on Dec. 12. The two were part of a larger group including Hadid's good friend Hailey Baldwin, singer Justine Skye, and Clarkson's teammate Brandon Ingram.
Apparently, the pack hung out at Zuma, an on-trend, high-end Japanese restaurant. One onlooker said, "It was a big crew and they were in a private room."
Sushi in a private room? Sexy.
According to the report, Clarkson was previously linked to Hadid's good friend Kendall Jenner, though the last time we checked, Jenner's currently sitting courtside in support of a different basketball player.
Los Angeles Clippers player Blake Griffin and Jenner are supposedly a "full-on couple." One source told Us Weekly,
Kendall has been going to a lot of his games and they have been enjoying time at home when Blake is in town. They're good.
I know. It's a lot to keep up with.
Low-key, I'm still rooting for Bella and The Weeknd.
After The Weeknd's famous split with Selena Gomez back in October 2017, the "Starboy" singer was spotted slinking out of Hadid's NYC apartment. Shortly after that, a different source told Us Weekly,
They [Hadid and The Weeknd] text nonstop and are totally in love. They are slowly starting to hang out again.
Another insider told People magazine their relationship was "very loving," and added, "They might never get back together, but Abel seems happy to spend time with her again."
Despite her young age, Hadid handled her split with The Weeknd with an extreme amount of grace and maturity. She told Teen Vogue, "When I love somebody, I love them with my whole heart."
She also talked about going through her first breakup and the tricky parts of having to do it in the public eye. She said,
It was my first breakup—or second, next to the horse—and so public. As an outsider, you might think I handled it so well, but it's always in your heart, and you always feel it very heavily.
She also said, "It'll be hard for a while. Love hurts, but you have to pull through."
Now, here we are almost exactly a year later, and she's supposedly cozying up to Clarkson and eating sashimi. I just can't keep up with this girl.
I suspect between Hadid traveling the world and Clarkson's rigorous training schedule, it might be slow-going for these two. But then again, I'm not a supermodel or a professional basketball player, so what do I know?
If you guys excuse me, Zeek is waiting.
Check out the entire Gen Why series and other videos on Facebook and the Bustle app across Apple TV, Roku, and Amazon Fire TV.