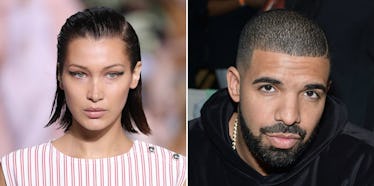 Are Bella Hadid & Drake Dating? Yolanda Hadid Opens Up About Her Daughter's Love Life
JP Yim & Grant Lamos IV / Stringer
Wait, did you guys know this was a thing? Are Bella Hadid and Drake dating? Rumors are circulating (I guess?) ever since Drake threw Hadid a special twenty-first birthday party, and I'm shook. This whole time I've been paying so close attention to what's up with Hadid's ex, The Weeknd, and his girlfriend, Selena Gomez, I didn't even consider what was going on with my main girl Bella!
As you guys remember, Hadid was in a serious relationship with one of Forbes top 100 richest people, The Weeknd, for over a year when it all came to a sudden halt.
Sure, sure. There was that epic moment when she strutted past him on the Victoria's Secret runway and we were all like, "Well, that's one way to get over an ex." But still, it seems The Weeknd moved on much quicker into his new relationship with Gomez, leaving us all wondering how Hadid felt.
After their split, Hadid opened up with Teen Vogue in February of 2017 on how she was doing. She said,
When I love somebody, I love them with my whole heart... It was my first breakup—or second, next to the horse—and so public. As an outsider, you might think I handled it so well, but it's always in your heart, and you always feel it very heavily.
She added, "It'll be hard for a while. Love hurts, but you have to pull through."
Pull through with, say, Drake?
TBH, I'm way into it.
While Hadid's mom and Real Housewife of Beverly Hills star Yolanda Hadid visited Andy Cohen on Watch What Happens Live, the Bravo TV mogul directly asked about her daughter's love life.
She basically said, "no comment," which we all know is the same thing as a YES SHE IS DATING CHAMPAGNE PAPI!
Take a look.
Pretty suspicious, no?
Cohen asks, "There are rumors that Bella is dating Drake. Is that true?"
Yolanda seems to be flustered, dodging the question and asking, "Are you kidding?" She then does an awkward fingers gun thing, which we all know is code for "STFU."
Cohen persists, explaining, "He threw her a big twenty-first birthday party last night... you were there."
Yolanda finishes the interview by saying, "They're friends."
Sure. Because I'm sure it's really easy for a mega-hit rapper and a gorgeous supermodel to just remain friends and not fall madly in love with one another. Because that's real life.
Still, it's nice to hear she is moving on from The Weeknd. Yolanda confirmed that she doesn't think her daughter cares anymore about her ex and his new relationship, which makes sense. Even if she isn't dating Drake, Bella has a lot going on.
Between being one of the most famous supermodels — a position she shares with her big sister Gigi — and being a regular ol' twenty-something girl who happens to be rich AF, we're sure Bella is keeping busy.
To celebrate herself on her big birthday, Hadid shared a cheeky photo of her perfect behind in a thong on her Instagram story, and a series of images of her sitting in front of big silver balloons that spell out her name.
Happy birthday to you, indeed.
On his part, Champagne Papi isn't giving us many clues on his social media. Just the usual pictures of himself wearing sunglasses on airplanes, etc.
Fingers crossed this rumor ends up being true, because we all know Drake is just a bleeding heart looking for love and Bella deserves someone who adores her.
Moms, keep us posted!
Check out the entire Gen Why series and other videos on Facebook and the Bustle app across Apple TV, Roku, and Amazon Fire TV.