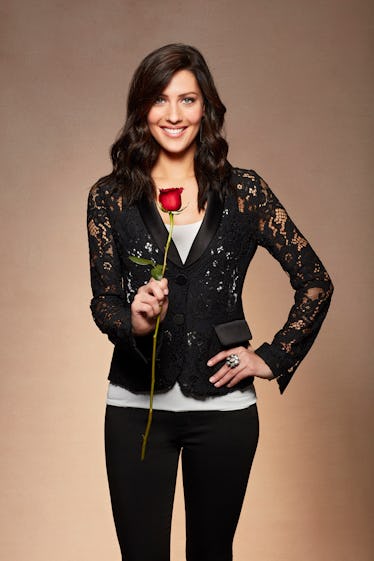 Here Are The 3 Guys Becca Sent Packing On 'The Bachelorette' Week 6 & It Was Dramatic AF
ABC/Craig Sjodin
Season 14 of The Bachelorette has entered that crucial stage in the competition where the real contenders are truly separated from the people Becca doesn't necessarily see a future with. Our leading lady has no time to waste at this point. After a week full of more drama between the guys (it never ends, does it?), Becca narrowed down her suitors to a handful of men who all have solid chances at winning her heart. Who goes home on The Bachelorette week 6? Becca said goodbye to three guys, taking her dating pool from nine to six. And one of those guys didn't even make it to the rose ceremony. Things are getting real now.
It all went down in Virginia for the sixth week of Becca's journey — yes, the state is kind of a random location for a dating show that's known for jetting its cast off to a crystal blue beach or an ornate castle or something grand, but, then again, Virginia is for lovers. So, Richmond it was where the guys had to participate in a group date called a Beccalection, which I feel only happened because one of the producers realized her name seamlessly flows into the word election. Blake, Connor, Chris, Lincoln, Garrett, Wills, and Colton all had to participate in a political debate-like scenario that eventually devolved into a he said/he said where the guys' negative statements (mostly via Chris, who said Lincoln had body-shamed him) opened up the drama floodgates.
Since when has Becca enjoyed behavior like this? Do they know her at all?
"It's just stupid drama that shouldn't be happening in front of all these people," she said, completely embarrassed about their public war of words.
This all prompted Lincoln to approach her, saying something about how the guys felt threatened by a "verbally abusive" Chris. She then confronted Chris to hear his side and he was stunned by the accusation.
"It hurts hearing this because this is completely fabricated," he told her.
Like everyone watching, Becca was even more confused by their conflicting stories.
While that event had its ups and downs, Becca's one-on-ones fared a bit better. She and Jason finally got some moments together and hit it off big time, even though they had to go to an "unhappy hour," which was an experience I'm still trying to wrap my head around. Becca even got to meet Jason's friends from his hometown of Buffalo.
"I could really see saying yes to a forever with him," Becca remarked regarding their blossoming connection.
Becca also enjoyed stuntman Leo's company despite being drained from the previous night. They did the classic Bachelor-verse date combo — helicopter, concert, and dinner — and Leo let his hair down, both literally and emotionally.
"I know that I'm kind of like a caricature and it's difficult to think this guy wants to settle down, but I want you to know it's a great time in my life to be serious in a relationship," he told her.
Becca admitted they had a spark and that he turned her frown upside down. Leo gets a rose!
After Leo got home from his successful date, things got... cringeworthy. The sight of Leo's luscious locks coming through the front door with a rose pinned to his chest sent Chris into overdrive. He decided he couldn't take it any longer and just had to take action with Becca. He set out on a dramatic solo walk and ended up at her hotel room. After a brutally awkward back-and-forth convo where he poured his heart out, Becca (slowly but surely) told him she didn't want to move forward with him. Aaaaand that drawn-out chapter is over. Phew.
"I think Chris is just a very angry person," Becca noted, confessing she just couldn't see herself being with someone like him.
Then the inevitable elimination ceremony reared its unfortunate head with no cocktail party before it, because nobody needs to go through that this week. Who didn't get a rose? Becca decided to cut romantic ties with both Lincoln and Connor.
Nobody said being the Bachelorette would be easy. Or did they? It always looks so stressful and tear-filled for everyone involved, but Becca is staying strong through this rocky road of a process.
Until next time, Bachelor Nation. Let's take this damn thing to the home stretch.