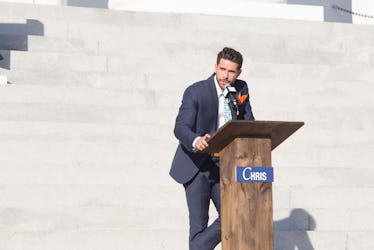 Chris & Lincoln's Group Date Fight Went From Bizarre To Intense & Becca Is Beyond Over It
ABC
Now that bickering biddies David and Jordan are no longer in the running for Becca Kufrin's heart on The Bachelorette, the show was definitely in need of another villain. Ever since Chris Randone began to feel unappreciated on last week's Las Vegas group date, he quickly inserted himself into the villainous mold, and his actions definitely haven't disappointed. Episode 6 of The Bachelorette included a literal debate in which Chris faced off against fellow contestant Lincoln Adim, and Chris and Lincoln's group date fight went from bizarre to intense in no time.
Chris put himself in a position of danger last week when he rubbed both Becca and the other men the wrong way, seemingly believing that his quality time with the lead was more important than the other contestants'. He showed plenty of red flags during the Vegas group date, culminating in him acting quite immature in a standoff with Wills. Living up to his new villain label, Chris's self-inflicted drama continued at this week's location of Richmond, Virginia, before he even went on a date.
When Jason received his date card, Chris announced he wanted an individual date or even a two-on-one this week, fueling some tension between himself and Lincoln, who seemed quite fixated on providing the statistics of surviving each scenario. Somehow, the argument led to Chris accusing Lincoln of body-shaming him and seriously snapping at him before the scene ended. And this was before Becca even interacted with any guys this week? Sheesh.
Later, Chris and Lincoln ended up on a group date with Colton, Garrett, Wills, Blake, and Connor. At this point in the competition, there are enough guys going on consecutive group dates that everyone is clued in on drama, and it was clear that the other men were carefully tiptoeing around Chris before their date challenge. Before the date, some of the men even discussed the pressure of the game going straight to Chris' head and ultimately ruining his chances with Becca. Nice to know that they analyze the competition as much as we do.
This week, Becca called for her men to participate in a debate answering questions about herself and determining which of the guys was the best fit for her. With redemption from last week on his mind, Chris stirred up trouble when he accused other men of putting up facades, which spurred from Lincoln subtly calling him out for thinking about leaving the show during their Vegas date.
The debate quickly shifted into a verbal battle between Lincoln and Chris, who said Lincoln was "dead" to him as the date began. Chris labeled Lincoln as "malicious and aggressive" and then proceeded to share their entire previous conversation about Lincoln shaming his body. How deep can you dig that hole, Chris?
Given the public's recent knowledge of Lincoln's unsavory past, watching this definitely didn't sit well, but the guys onscreen didn't look very comfortable either. Think of all of them nervously pulling at their collars and wondering if an eventual Paradise stint is worth all of this trouble. Meanwhile, Becca understandably wasn't pleased with either man for being so vocal about their issues in public, but Chris was still fixated on defending himself.
The night portion of the group date led to Lincoln trying to explain himself to Becca, mentioning a fear of Chris that became a recurring theme of the date. Lincoln also supposedly told Becca that Connor was afraid to room with Chris, but if you ask me, no one's story seemed totally valid. We didn't even get a killer reaction shot from Wills as per usual in these insane situations.
Of course, the drama was far from over as the group date concluded, but seeing as Becca proceeded to talk about Chris and Lincoln on her one-on-one date with Leo, we all know that an explosive end is definitely in sight for these two men. David and Jordan who?
The Bachelorette returns on Monday, July 9, at 8 p.m. ET on ABC.