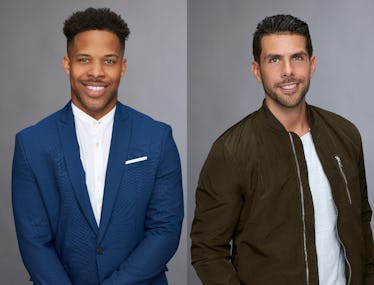 Wills & Chris Got Into A Fight On 'The Bachelorette' & Honestly, It Was So Mature
ABC
Last week on The Bachelorette, contestant Wills Reid distinguished himself as a man among boys when he took a warm and caring approach to Becca Kufrin on their one-on-one date following the untimely exit of a suddenly sketchy Jean Blanc. I'm officially Team Wills, and in Episode 5 of this Bachelorette season, the Los Angeles native proved once again that he definitely deserves our love. He stayed calm and collected in a tense cocktail party moment with Chris, and Wills and Chris' fight on The Bachelorette was surprising so mature.
Per true Bachelor franchise tradition, Becca and her remaining men ventured to Las Vegas for a decidedly more exciting American travel week than some past seasons' destinations (Arie's women going to Fort Lauderdale? Seriously?). After a group date challenge that asked the men to perform their own lyrics to the song "Danke Schoen," things took an uncomfortable turn on the date's night portion. Feeling confident about his performance on the date, Chris was strangely unhurried about getting his one-on-one time with Becca, meaning that he never got a private conversation on the group date. Totally his own fault, right?
Yet, he was still shocked about not getting the date rose, saying he felt rejected, embarrassed, and that Becca should have approached him first. He was so insulted that he wondered if he should voluntarily leave, leading to his rose ceremony freakout. Um, have you seen this show before, dude?
Becca took Chris aside first at the cocktail party because she had heard about his concerning comments, but Chris made it awkward right away and said that she owed him because of her behavior on the group date. Becca reminded him that he didn't take initiative with her, which is, y'know, the whole point of the show.
The two had a pretty uncomfortable argument about the issue, leading to Becca walking away to talk to other men, but Chris certainly wasn't done trying to explain himself. He repeated that he would've left if he wasn't interested in Becca and claimed he gave her his "all," but doesn't doing do that entail pursuing her whatever chance you get?
Chris then tried to clarify himself and crash Wills' individual time with Becca, during which they were bonding over both of them being "cool nerds." As a lifelong nerd who may or may not eventually reach the "cool" stage of her nerdom, I was already peeved with Chris for interrupting such a cute conversation. Although Wills was definitely annoyed, the 29-year-old graphic designer offered Chris an understandable ultimatum, saying he'd return in two minutes.
Firstly, well done, Wills and Becca, because it should be both the lead and her date's mutual decision if someone else interrupts them. Becca told Chris that she just sat down, while Wills tried to compromise to suit both of their needs. We've seen way too many Bachelorettes stare and giggle uncomfortably when a man tries to steal them away from another guy, and I loved that Becca subtly told Chris to wait his turn.
Wills also followed up on his two-minute warning, saying in a very soothing and neutral voice that Chris already had time to talk. He told Chris, "It would do me a favor if you'd respect me. You had your time tonight, I'd like to have my time as well."
Chris became a little more forceful, saying that the conversation was serious, and Wills clapped right back, saying, "So my time's not serious with her?"
Wills forever stole my heart when he said, "I'm going to politely ask you to get up." Forget lame leads like Arie Luyendyk and Nick Viall. Wills for Bachelor, anyone?
To be fair, Chris initially stayed relatively cool, but he started to lash out even though Becca promised she'd find him. I can't be the only one who took great joy in how smoothly Wills slid back in next to Becca after Chris finally surrendered. Wills' game also seemed to give the other men courage to accuse Chris of stealing time with Becca from the entire group. Eventually, our new hero even just quietly left the group discussion like a boss.
I present to you Wills, the man we all deserve in 2018.
The Bachelorette returns on Monday, July 2, at 8 p.m. ET on ABC.