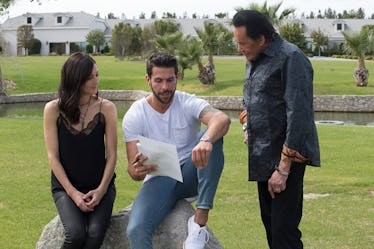 'The Bachelorette's Chris Randone Had So Many Red Flags During This Week's Episode
You know when you're 8 years old, you lose at Junior Monopoly, and you start crying because you have the most real money in your piggy bank and thought you'd win? Yeah, that's pretty much the exact temper tantrum The Bachelorette contestant Chris had on national television on Monday night, if you swap out the pre-pubescent investment skills for songwriting-with-Wayne Newton skills. The Bachelorette's Chris Randone had so many red flags on full display during Monday's episode that he deserves a rose for "Most Ridiculous Meltdown On An Episode In Which A Model And A Chicken Had A Two-On-One Date."
Randone's sudden descent into total spiral mode started after the second songwriting group date of this season — yes, second songwriting date. Rather than make the effort to talk to Kufrin at the cocktail party that evening, he thought it best to ride on the coattails of his songwriting skills. Despite being the only dude not to attempt to talk to Kufrin post-singing, when another contestant who did indeed speak to Queen B received the group date rose, Randone got pissed.
He got so deeply pissed that he threatened to leave the show, but not before trying to prove himself the next night. Unfortunately, it seems like his anger was already fully blinding him. When Kufrin asked him if he could really see himself with her, and be 50/50 in a future relationship with her, he replied, "That's something I don't need to think about." Like, what?! Kufrin clearly wasn't loving what Randone was saying.
After that conversation, Randone decided that he still wasn't done trying to prove himself, and walked right on over to interrupt Kufrin's one-on-one moment with contestant Wills Reid. Reid, Bachelor Nation's newest hero, very politely explained to Randone that he had just sat down with Kufrin, and that he would give Randone two minutes — if Kufrin was OK with that — to speak to her before coming back. Of course, when Reid came back, Randone wouldn't move, saying, "Really?!" in the same way you probably said it when you were 6 and your mom told you it was time for you to leave the play date at your friend's house. Reid handled things like a perfect gentleman, and saved Kufrin from Randone's inability to understand when to tamper his impulses.
To be fair, The Bachelorette is a highly-produced television show, and the pressure of on-set producers, as well as the editing, can increase the stakes. That said, there are some major red flags Chris shared with the world that aren't all that far off from some first date behaviors that might make you think twice.
I spoke to renowned celebrity matchmaker Kailen Rosenberg to get her take on Chris' behavior. Rosenberg is an author, Oprah's Love Ambassador on LOVETOWN, U.S.A, and the founder of The Lodge Social Club mobile app, so I knew she'd have some great insight.