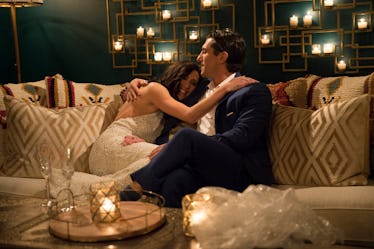 Becca & Jason's 1-On-1 Date Was Awkward AF, Until This One Thing Saved The Day
ABC/Paul Hebert
Last week, Bachelorette Season 14's Becca rolled the dice on love in Las Vegas, and this week she and her suitors hit the road to historic Virginia. It's for lovers, after all. The locale is certainly not as glitzy and Wayne Newton wasn't involved, but Becca did get the chance to get more deeply acquainted with one of her contestants. The leading lady was whisked off to an unconventional date with Jason that included meeting his pals from back home. How did it all go down? Becca and Jason's 1-on-1 date on The Bachelorette had an awkward start, but his friends ended up being the best wingmen ever.
"I've been waiting six weeks for this!" Jason exclaimed prior to the big date.
"Since night one, I felt like Jason was such a great guy. And I've always really liked my time with him," Becca explained.
The couple wandered around town for their low-key Richmond rendezvous. They rode a trolley, visited St. John's church, made donuts, and stole kisses at where else? The ever-romantic Poe museum... Then it was off to an "unhappy hour" where they chilled with some gothic dudes in a somber courtyard. It was an awkward date scenario, to say the least, but they goofed off together enough to make it work.
"I think we're haven't fun even though we shouldn't be," Becca remarked. Way to roll with the Poe-nches, guys. (That's the worst Poe pun we could think of.)
Then, it was off to his surprise meant to "blow his mind:" His friends were waiting at a local bar!
Going to a casual pub with a suitor's friends isn't exactly exotic like cruising in a helicopter over a breathtaking landscape or writing a song with a hit pop singer, but it is a way more realistic part of getting to know someone you're dating than some of the other fairytale scenarios this show creates. Jason Tartick is a corporate banker from Buffalo, New York and he and Becca haven't enjoyed much quality time together leading up to this episode. So, why not bring a third, fourth, and fifth wheel along? It's the perfect way to see if there's an authentic relationship brewing.
Thankfully, Jason was all good with the prospect of bringing his besties along for the ride. In fact, he was ecstatic to see some familiar faces. He also opened up to them, admitting, "It's getting real. It's getting real quick." And his buddies totally talked him up, much to Becca's delight.
"Jason's friends remind me so much of my home and of my friends. It's the best feeling ever," Becca remarked. Rave reviews all around!
The idea was a total hit for both parties, allowing Becca to see Jason in a whole new and more attractive light, erasing the memory of the "unhappy hour" from earlier in the day.
"I'm getting to the point with her where I feel like I'm falling in love with her," Jason said at one point.
"I could really see saying yes to a forever with him," Becca confessed at the end of the date. "Like, damn, I am falling for Jason."
"Yes To a Forever" not only sounds like my new favorite Hallmark original movie that doesn't exist yet, it's an exciting development for the pair.
Jason hasn't gotten much screen time but as it turns out, it was all worth the wait. Plus, he got the rose!
Things are seriously heating up on The Bachelorette at this stage of the game. Hey, Becca already admitted to Chris Harrison she's got babies on the brain and she's been ripping out pages from bridal magazines... It looks like Jason is shaping up to be a serious contender for her heart.