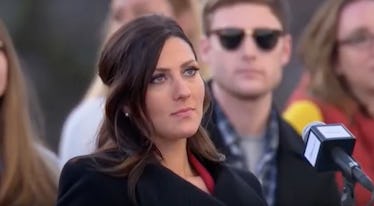 This New 'Bachelorette' Promo Shows The Drama Is Just Getting Started
YouTube
"I want to find love. I want it more than anything. That's what I've been searching for. I'm not gonna stop fighting for it until I have it," Becca declares through tears in the The Bachelorette Season 14 episode 6 promo. The clip not only previews what's going to go down Monday, July 3, it actually gives viewers a glimpse at the rest of the season — and from the looks of it, Becca's journey is going to continue to be a rocky road of emotion, drama, fighting, and... makeouts in exotic locations.
Next week's episode apparently has some sort of fake political setup with a debate scenario cleverly titled a Beccalection. The guys are up on podiums making their arguments for what I can only assume is why they should be with Becca or something, which is a not-so-sneaky way to get them to talk negatively about one another.
"The guys say disrespectful things about Becca and if she saw it she's be disgusted," Chris says in front of an audience. Yup — I guess they're going there.
Tension between Becca's contestants isn't subsiding, specifically when it comes to Lincoln and Chris. There's also someone who "freaks out" and "loses it."
"She's in such a bad head state right now. It's affecting me. It's affecting everyone in the house," Garrett says at one point in the clip.
The "later this season..." portion of the promo is equally as dramatic, but there's hope for Becca yet. The bachelorette is clearly conflicted — but will it all work out for her in the end? Hint: Yeah.
"Everything has led to this moment. The tears. The heartbreak. The confusion. I trusted my gut and followed my heart and it was all worth it to find that love," Becca's voiceover states as she's shown walking dutifully in a glitzy white gown towards a decorated beach dock. The throughtful stroll in formal attire shot is integral to the Bachelor franchise canon. It appears she found what she was looking for, but first she had to go though a lot.
There's kissing, gleeful swinging on tires, swimming in clear blue seas, and a few versions of "I loves yous" from the men. Also... more crying.
"I don't think anything could prepare you for this," Becca says weeping with her head in hands.
Becca has dealt with discord among her suitors since the beginning and I feel like she's always left reprimanding and picking up the petty pieces. Last week, the friction du jour was between male model Jordan and David, who got into a heated argument in a frickin' desert on their 2-on-1 after David went to Becca to bad mouth his opponent. Thankfully, Becca had no time for the hassle, and ultimately sent them both packing. This season is the television embodiment of the phrase "I can't even."
Being a reality dating show leading man or lady isn't all sandy kisses, helicopter rides, and cocktail party chit-chat. The experience looks emotionally draining and just exhausting overall. I cancel about a third of my social commitments — can you imagine having to date 25 people at once and break up with some of them and constantly do stuff with people you might not be vibing with?
"Until you're in this position, you don't realize how much pressure there really is, and how difficult it is to navigate certain relationships. Because if you're doing it right, you should be developing feelings for multiple people to really sift through every personality, every relationship, to exhaust the ones that aren't right for you," Becca told ET prior to the Season 14 premiere.
Becca also admitted she did "develop really strong feelings for a couple of them and I did fall for two guys at the end."
Bring on the rest of the season! The Bachelorette airs Mondays on ABC.