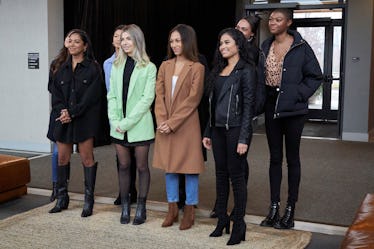 Bachelor Nation Is NOT Happy About Matt Sending This Fan-Favorite Home
ABC/Craig Sjodin
The Feb. 1 episode of The Bachelor ended with quite a bit of drama between two of Matt James' contestants, MJ Snyder and Jessenia Cruz. That meant the following episode on Feb. 8 picked up right where that episode left off, and things only got more intense from there. So, who goes home on Matt's Bachelor Week 6? Matt's search for his future wife is heating up.
Week 6 started off with MJ and Jessenia tensely waiting for their 2-on-1 date with Matt. MJ was still upset about Jessenia telling Matt about her being an antagonist in the house and coining the term "varsity versus JV" after new women joined the cast.
Although Matt noted both women made valid points during their 2-on-1, it was time for one of them to go. And that person was MJ. After telling the contestant that their "connection is undeniable," he followed up with, "MJ, I can't give you this rose."
So, a stunned MJ headed home and Jessenia walked away with the 2-on-1 rose. "It didn't have to come to this. MJ had every opportunity to own up to [the drama]," Jessenia told the camera, gushing about Matt's support of her. But dealing with that mess clearly weighed on Matt, because he chose to cancel the night's cocktail party in favor of skipping straight to the rose ceremony.
Abigail, Kit, Rachael, and Jessenia already had roses by this point, so that meant even fewer women would get them at the actual rose ceremony. Here's who else Matt saved:
Serena P.
Michelle
Pieper
Bri
Chelsea
Katie
Serena C.
Three contestants were sent packing: Brittany, Ryan, and fan-favorite Magi. "It's tough. I'm sad, but be has no idea the love I have, how much love I can give," Magi told the camera. "My person is definitely out there, and I cannot wait to meet him."
Ryan, who joined the show in the Jan. 25 episode, took the loss harder, sobbing: "I really wanted that chance! I just feel like I was too late."
And that wasn't the only heartbreaking moment of the episode. Later on, Matt had a 1-on-1 with Katie, during which they pulled pranks on Matt's bestie/Bachelor Nation fan-fave Tyler C. Throughout the day, Matt and Katie shared a bunch of laughs and a few kisses, but at the end of the night, Matt decided to send Katie home, telling her that she's a wonderful woman, but his relationship is progressing further with many of the other women.
Fans were super sad to see Katie leave, especially because of her sex positivity and low tolerance for bullying. However, many viewers are already holding out hope they'll see Katie on another ABC show soon, either as a contestant on Bachelor in Paradise or possibly even as the next lead of The Bachelorette.
As for what these Week 6 exits will mean for Matt's season, fans will have to keep watching The Bachelor on Mondays at 8 p.m. ET on ABC to find out.