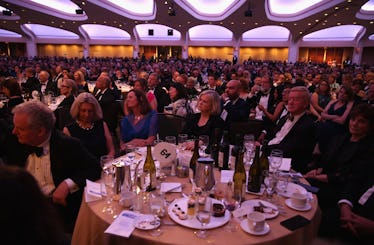 Trump Didn't Attend The 2018 White House Correspondents' Dinner, But Here's Who Did
Tasos Katopodis/Getty Images Entertainment/Getty Images
Saturday, April 28 was a big night in Washington D.C. Celebrities, politicians, and members of the press convened at the nation's capital for the annual White House Correspondents' Dinner. While the president himself wasn't there, here's who did attend the 2018 White House Correspondents' Dinner.
The White House Correspondents' Dinner has historically been attended by presidents and first ladies for an evening of rib-poking jokes all made in good fun. But President Donald Trump, for the second year in a row, declined to attend. White House Press Secretary Sarah Huckabee Sanders instead served as the administration's representation for the dinner.
In an interview earlier this month, Trump had indicated he probably wouldn't be attending. His campaign CEO Michael Glassner confirmed, in a statement per The Hill, that the president would be skipping out on the affair, instead attending a rally in Michigan on the same night. "While the fake news media will be celebrating themselves with the denizens of Washington society in the swamp that evening, President Trump will be in a completely different Washington, celebrating our national economic revival with patriotic Americans," Glassner said.
While Trump is off in Michigan though, the White House Correspondents' Dinner was attended by plenty of big names. For instance, the event this year was hosted by comedian Michelle Wolf, a Daily Show alum who has a Netflix show, The Break with Michelle Wolf, premiering on May 27.
Also in attendance was John Kasich, the current governor of Ohio and former Republican presidential nominee. Reince Priebus was also spotted, who served as Trump's chief of staff before he was fired on July 28, 2017. In addition to the press secretary, Kellyanne Conway was also present at the dinner on behalf of the Trump administration.
But tonight was all about the members of the press, who work tirelessly to deliver us the news. Present in the audience tonight was CNN's Don Lemon and MSNBC's Chris Matthews. CNN's Jake Tapper and other members from the network's news team received an award from breaking the story that both former President Barack Obama and Trump were told by U.S. intelligence officials that Russian operatives claim to have compromising information on Trump.
And some of Trump's adversaries were in attendance, and eyes were on one man in particular given his challenge to the president. Stormy Daniels' lawyer, Michael Avenatti, said he would go. Daniels, an adult film star, is suing Trump to get out of a non-disclosure agreement she signed, receiving a $130,000 payment from Trump's lawyer Michel Cohen in return for keeping quiet about an affair she allegedly had with the president back in 2006. Trump and the White House have repeatedly denied this affair. (This is separate from another alleged affair Trump denied having with former Playboy model Karen McDougal, who is also suing to come forward about her story.)
It's not exactly a surprise, though, that Trump would make himself unavailable for an evening devoted to shoulder-rubbing with the press. The president has has a longstanding feud with the news institution as a whole. But on April 21, exactly a week before the White House Correspondents' Dinner, he escalated his attacks with personal targets. In a three-part Twitter rant, Trump called New York Times reporter Maggie Haberman a "third rate reporter" and "Crooked H flunkie."
He also accused the Times and Haberman, the award-winning White House correspondent, of using "non-existent 'sources'" and implied that they were "lying or making up stories." Haberman, meanwhile, was given an award for her reporting by the White House Correspondents' Association this month.
The next day, Trump's onslaught continued, this time going after the host of Meet The Press, calling him "Sleepy Eyes Chuck Todd of Fake News NBC."
Glamorous parties are half the fun of the White House Correspondents' Dinner for the D.C. crowd. Also known as "nerd prom," the event is surrounded by a host of swanky cocktail and dinner parties that begin Thursday and continue through Sunday. (Seriously, it's like the Coachella of political punditry and Washington reporters.) Even Playboy announced it would be throwing a party for the White House Correspondents' Dinner — a first for the magazine.
It's not clear whether Trump will go to any of these festivities surrounding the White House Correspondents' Dinner, either — although the idea of him attending the Playboy party doesn't seem all that far-fetched given his alleged affair with McDougal (which he has denied) — but his absence for the dinner, at least, seems certain.