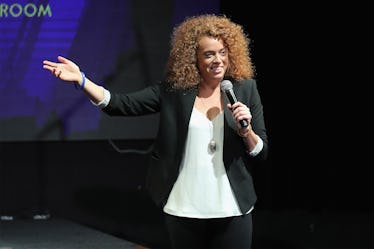 The White House Correspondents Dinner Will Be Hosted By Another Comedy Central Alum
Neilson Barnard/Getty Images Entertainment/Getty Images
It's that time of year again. The White House Correspondents Dinner is just around the corner, and while most of the guests will remain the same — the most notable of political media members are always there — one thing is sure to change. So, who is hosting the 2018 White House Correspondents' Dinner, you might ask?
The answer is Michelle Wolf.
No, it's not the author of that infamous (and very suspect) book about President Donald Trump — that's Michael Wolff. Michelle Wolf is actually a comedian who used to be a contributor to Trevor Noah's The Daily Show.
"I'm delighted to announce 'Nice Lady' Michelle Wolf as our featured entertainer this year," Margaret Talev, president of the White House Correspondents Association, announced in February. "Our dinner honors the First Amendment and strong, independent journalism. Her embrace of these values and her truth-to-power style make her a great friend to the WHCA. Her Pennsylvania roots, stints on Wall Street and in science and self-made, feminist edge make her the right voice now."
Talev is also a White House reporter for Bloomberg.
The selection of Michelle Wolf as the host of "WHCD" means she's become part of the long line of Comedy Central alums who have hosted the event, known fondly as the "nerd prom."
For the 2017 edition of the dinner, the host was Hasan Minhaj, yet another member of The Daily Show team. In 2016, former Daily Show contributor Larry Wilmore — and now co-creator of HBO's Insecure - hosted the event, which resulted in a, let's say, notable moment with former President Barack Obama.
This year, it's highly unlikely that a moment similar to Wilmore's will happen. That's because the president has no plans to attend the dinner, just like last year. Earlier in April, WHCA president Talev announced that Trump would be skipping the event for the second year in a row.
"The White House has informed us that the president does not plan to participate in this year's dinner but that he will actively encourage members of the executive branch to attend and join us as we celebrate the First Amendment," Talev said in a statement.
Despite the announcement, Michelle Wolf still tried to convince president Trump to make it to the dinner. During a Monday night, April 16, appearance on Jimmy Kimmel Live, she jokingly dared the president to show up.
"I dare you, you poor little man!" she said, while staring into the camera laughing. "I'll give you five dollars if you come."
Michelle Wolf is a 32-year-old Pennsylvania native who worked on Wall Street before venturing into comedy, according to The Hollywood Reporter. In May, she will debut as the host of a Netflix original series, The Break.
During her interview THR, she detailed her thoughts about the Trump presidency. In February, she told the same outlet that she'd cried after Trump won the election. During her April interview, though, she offered another stance.
"Look, I know people think Trump's bad and I agree, but we've had a lot of really bad presidents. I think sometimes we've sugar-coated that," Wolf said. "We forget that there's been a lot of really terrible, powerful people in our history. And just because they didn't say it or they didn't tweet it doesn't mean they weren't doing terrible things. He's also only the second president to ever tweet."
Still, she wished Trump would show up, because it'd make for a much better experience.
"I'm going to say the same things, whether he's there or not," Wolf told The Hollywood Reporter. "I think it's more fun when people are there only because I like making fun of people to their face."