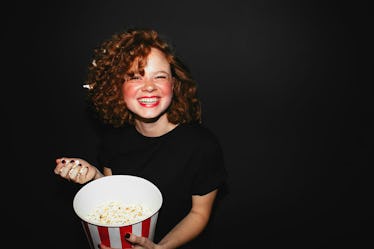 The First Time You Feel Comfortable Going To The Movies Alone, You Learn These 5 Things
If there's one thing I've learned in my 20s, it's that you have to get comfortable with doing things by yourself. You have to be able to entertain yourself on a lazy Saturday afternoon, and teach yourself the ins and outs of adulting. You should also learn to enjoy your "me" time. I've learned this, too: When you feel comfortable going to the movies alone, you discover a few things about yourself, the world, and this decade of your life.
First things first: You should know one thing. You're the star of your life. You're the leading lady — the main character who's getting wrapped up in all kinds of adventures, friendships, and relationships. You're the person who everyone in the movie theater is routing for, because you have a quirky personality, a loving heart, or the best sense of humor.
It's time that you practice self-care routines and give yourself the time and space to just "be." The world can be so demanding, especially in this decade of your life. Getting comfortable with doing things alone, like going to the movies, can be the most rewarding and refreshing solution you're looking for.
Not to mention, you're guaranteed to learn these five things, just from sitting back in a theater with a bowl of popcorn. Thank me later with a pack of peanut butter cups for all the words of wisdom.