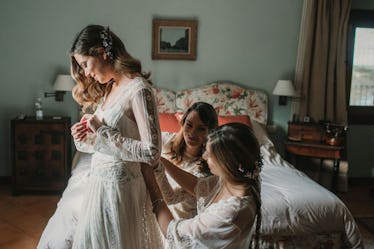 If You Aren't Asked To Be A Bridesmaid, But Thought You Would Be, The Struggle's Real
Growing up, you may have imagined what your wedding day would be like. You thought about the colorful bouquets of flowers that would line the aisle, and the song you'd dance to with your significant other for the very first time. You dreamed about the sparkling lights that would hang from the ceiling at the venue, and all the romantic moments like reciting your vows and saying, "I do." In addition, you got excited for the other weddings you'd likely attend as an adult, where you'd stand next to your bestie as they found their happily ever after. Unfortunately, life doesn't always work out exactly as you planned. Keep your head up, OK? When you aren't asked to be a bridesmaid, the struggle can be very real — but I'm determined to find the bright side.
First things first, though: I want you to know that your feelings are valid. You might be a bit disappointed and frustrated. If I were in your shoes, I would put on some old Taylor Swift music, treat myself to some cookie dough ice cream, and take a deep breath. Then, I'd focus on all the beautiful things to come on my BFF's wedding day, and the ways I can support them just the same.
Truth is, you don't have to be a bridesmaid to be there for your friend when they get married. You just have to find the bright side of these five struggles.