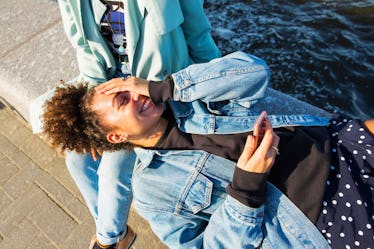 When Your Best Friends Are More Like Family, You Know These 5 Things To Be So True
When you're in your 20s, friendships can look and feel a little different. Instead of befriending someone on the playground or your soccer team, you get close to people you work with or people who live in the same apartment building as you. You start conversations over random things like tossing your pizza boxes into the trash chute, being overtired at the office, and laughing about a random meme. It's not necessarily about crayons, chocolate pudding, and matching bracelets anymore. But that doesn't mean you don't know what it's like when your best friends are like family, and to have people in your life who you love like a brother or a sister. Let's talk about that, shall we?
Truth is, despite all of the people who will come and go in life, you have some best friends who have been there since kindergarten. They're the ones who know all of your embarrassing stories, your favorite snacks, and would race around your neighborhood with you on scooters after school. They're the ones you always text your "real world" problems and drama to, followed by a message that says, "What would I do without you?"
In addition, you have some new friends who instantly felt like family. They clicked in your social group, and seemed to understand your brain better than anyone else. I've been there and done that, and have friendships that are very similar in my life. I know that you know these five things to be so true.