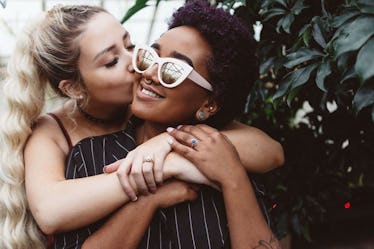 If A New Friend Does Any Of These 5 Things, You Know They're A Keeper
This decade of your life has brought a lot of new. It's brought new opportunities, like internships and jobs that spark your soul, and new relationships that may have made you more adventurous. Most importantly, it's brought you closer to new friends who understand your love for photography and dipping chocolate chip cookies in cold milk. You're not sure how you lived without these people, and never really want to know. But, you do want to understand one thing: how to tell if a friend is a true friend for life and a total keeper.
I may have an answer for that. But before I get into it, I want to make sure we're on the same page. I want to make sure that you know what makes someone a really good friend, and how you can be that person for someone else. Are you ready? Sweet!
First, a solid friendship requires support. This could be in the form of encouraging text messages that you send in the morning that say, "You're beautiful! Have a great day," or in a shoulder that's always there to lean on. Second, it calls for lots of laughing and smiling, and jam sessions to "True Friend" by Hannah Montana in your apartment's kitchen. (OK, that part isn't totally #necessary.)
Lastly, it calls for these five things that truly show that you, or your new BFF, is in it for the long haul. Is this person a keeper? Let me know.