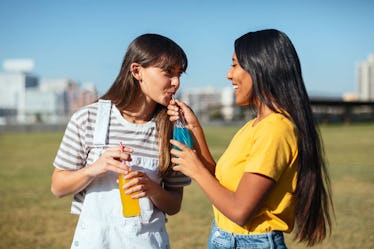 7 Weirdest Things Your BFF Does That Make Her, Well, Your Best Friend
Life would be pretty dull without your best friend. You wouldn't wake up to nearly as many memes in your inbox on Monday morning, or video chat calls at 2 a.m. You wouldn't have somebody constantly asking you questions like, "Do you want pizza right now?" or "Should we go on an adventure this weekend?" Not to mention, your camera roll wouldn't be overflowing with adorable (and sometimes, hilariously embarrassing) snaps with her. Yes, your life would truly be so different without the weird things your best friend does that make her, well, your BFF. Can you agree?
Let's recap all the ridiculous, hilarious, and incredible memories you've had so far. There was the time when you hopped in the car and decided to spontaneously get milkshakes at midnight, just before your favorite diner closed. There was the day when you started an Instagram account dedicated to your friendship. Last but not least, there was the afternoon when you randomly decided to dye your hair the coolest shade of pink, and vlogged it all.
Looking back, those memories are some of the ones you cherish the most. You can picture yourself telling your kids one day about their "cool aunt" who has always made your life a little brighter. You can imagine showing them the Polaroids, funny videos, and notes you used to pass in class. Of course, your BFF will be there, too, remembering these seven weird things she did and will always do.