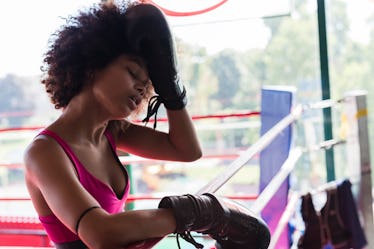 If You've Ever Worked Out On Your Period, You Know These 7 Struggles All Too Well
When it's that time of the month, and you're a moody, hormonal mess, hitting the gym might be the last thing on your mind. But sometimes, a rare wave of motivation washes over you, and you decide to squeeze in a sweat sesh with Auntie Flo as your oh-so-loyal gym buddy. However, when you're working out on your period, you quickly come to realize that you've involuntarily boarded the struggle bus — and that sh*t is going full speed ahead, without mercy.
OK, maybe I'm being a tad bit overdramatic here. After all, as long as you're feeling up to the task, working out on your period actually isn't bad for you at all. In fact, it can help lead to a more manageable menstrual cycle by easing your PMS symptoms, according to Health.
But honestly, everyone is different, and some ladies who hit the gym during their time of the month know that the struggle is so freaking real — especially during those times when your usual workout routine literally feels like Satan's idea of fun.
If you've ever tried to work out on your period, and quickly caught yourself fantasizing about drowning in your own puddle of sweat, you are not alone, my friend. Here are seven struggles you know too well if you've ever worked out during your period.