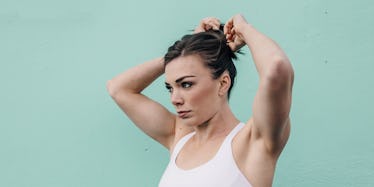 6 Super Comfy Sports Bras To Support Your Big Boobs During Any Workout
Convincing yourself to ditch your Netflix marathon and go slay your new HIIT workout is challenging enough as it is.
But when you have to also bring two uninvited, bouncy visitors along for the ride?
It's a pain in the ass -- or boobs, I guess.
If you were #blessed with a larger chest, you know the unpleasant feels that come with attempting to work out in a sports bra that appears to have been designed for those who aren't, shall I say, as well-endowed as others.
All these new, lightweight, bralette-style sports bras are cute AF, but if you try fitting any boobs with a cup size larger than a B into them, you're basically setting yourself up for a guaranteed nip slip.
Tasteful side-boob? More like unsatisfying spillage.
If you know the struggle, here are six different sports bras that will keep your girls in place through even the most intense workouts.
1. High-Intensity Hold
High Intensity Run Bra, $65, Sweaty Betty
The "ultramarine" color of this bad boy will give you the opposite of the breast blues.
The cross-back style and softy padded straps work in tandem to ensure you're both supported, and comfortable, no matter what workout you bring to the table that day.
2. Free To Move
Enlite Bra, $98, Lululemon
Lulu, you've done it again.
Wearing this bra is literally, like, an enlightening experience -- think of it as nipple Nirvana.
The price is definitely steep, but trust me, your girls will seriously thank you for this purchase.
3. The Underwire Wonder
Freya Epic Underwire Crop Top Sports Bra, $28, Amazon
Underwire is to big boobs like peanut butter is to jelly. The two are basically meant to go hand-in-hand.
Don't let that wire scare you, though. Using a curbed wire, this sports bra can literally shape itself to your body while it effortlessly supports you.
Bring on the burpees, baby.
4. Maximum Support
Brooks Moving Comfort Maximum Control Sports Bra, $47, Amazon
Runners, this one's for you.
Avoid unwanted jiggles and uncomfortable bounce with this expertly banded baby.
This sports bra provides full coverage, and it's designed especially for high-impact activities.
Thank you, science.
5. Sturdy And Sexy
HPE Impact Bra 2.0, $59, Bandier
Trust me, you can definitely feel supported and look trendy AF at the same time with your large chesticles -- you just need the right fit, and this baby is it.
The mesh-marble combo in this sports bra is anything but bland, and it'll leave you feeling strong and sexy -- even when you're aggressively dripping in sweat post-SoulCycle.
6. Zip, Don't Slip
Wacoal High-Impact Zipper-Front Sports Bra, $50, Macy's
Minimize bounce and maximize confidence with this vibrant zippered bra.
It's hot pink, high-impact, and comfortable AF. Zip this baby up and head straight to Zumba.
You can dance like no one's watching -- but the athleisure envy is sure to have all eyes on you.