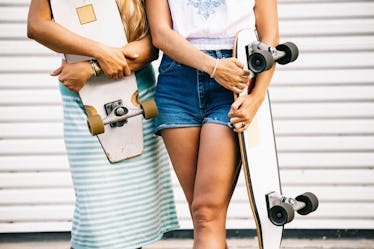 5 Simple Bucket List Ideas For Friends To Complete Before 25 That'll Make Life Even Better
Life is pretty grand. Your favorite experiences and excursions tend to take it from average to out-of-this-world. Skydiving during your semester abroad in Australia, eating fresh gelato in Florence, and moving across the country to be with your significant other were all movie-worthy milestones. But, even on the simplest days, you have a reason to love the life that you live. You have little victories, relationships, and cups of coffee that make things brighter — and only need some simple bucket list ideas for friends to complete before turning 25.
Now, turning 25 is also a milestone. You'll hear it time and time again on your birthday that you're officially a quarter-of-a-century years old. The people in your life will start asking you those big questions again like, "Where are you hoping your career path goes," and "Where do you see yourself living in five years." Don't listen to any of it — it's just noise! Instead, focus on the simple things that life has to offer in the present.
These are the moments and memories that you can, and should, make with your best friends. They're the stories that are going to get told on your wedding day, or to your kids when they ask about what this decade of your life was all about. Make sure it's colorful, adventurous, and your own in every single way — and do these five things with your friends before turning 25.