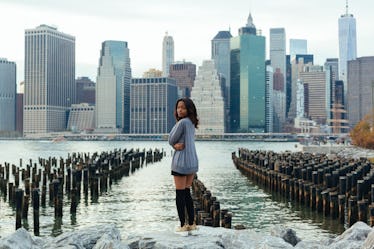 When Your Parents Visit You In NYC, Here Are 5 Things To Do That You'll All Actually Enjoy
Word on the street is you recently followed your daydreams and moved to The Big Apple. You found a cute apartment in the middle of Brooklyn, or a place to rent with your best friend above the bustling streets of Manhattan. You're beyond excited, even though it's proving to potentially be the most expensive, loudest, and stickiest (Have you gone on the subway in the summer?) adventure you've had yet. So far, you've tried lots of different restaurants and have seen the major tourist sites. But, you want to know some things to do when your parents visit you in NYC that you'll all actually enjoy.
Last time you checked, your mom wasn't too keen on heights, so taking the elevator to the top of the Empire State Building is out. If none of you are particularly fond of large crowds — especially when you're trying to spend quality time together — going to Times Square and Rockefeller Center may be out of the equation as well. You all do love to eat good food, though, and experience a place like a local would.
Lucky for your family, you are a local now and can take them around to the sites that are so underrated and worth your time. You can bring them to the art galleries, trendy brunch spots, and quaint cafés that make this city so lively and beautiful. You can bring them to your favorite pizza shops, and do these five things, too.